Reggie on Black Friday success, why Red Dead Redemption 2 isn't on Switch, Smash Bros. talk, more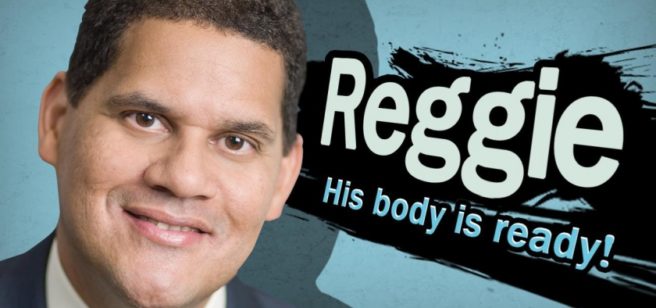 Hollywood Reporter is the latest outlet to have shared a few words with Nintendo of America president Reggie Fils-Aime. The two sides discussed Nintendo's Black Friday success, why Red Dead Redemption 2 isn't on Switch, the importance of having announced Joker for Smash Bros. Ultimate, and more.
We've rounded up highlights from the interview below. You can read the full discussion here.
On what made the five-day period around Black Friday such a huge success for Nintendo…
When you look at it compared to a year ago, we basically doubled our business over those five days.
I think it's a number of things. First, consumers look at Black Friday as an opportunity to get their holiday purchasing going. They look at values out of the marketplace and for us, it was really important to message the type of value that we will have with Nintendo Switch during the holiday season. For Black Friday, specifically, we had a hardware bundle that included Mario Kart 8 Deluxe – arguably one of our best-selling games – a game that consumers are already voting with their wallets that they want. That bundle sold out immediately. Then, we had a strong dedicated offer for Cyber Monday and this was offering $35 in e-shop credit when you bought through the dot-com retailers. What we saw that was gratifying is that both of those deals sold out quickly and then consumers started buying stock at regular price. That's what we expect to continue. There's going to be no more significant deals for Nintendo Switch. We're only in our second holiday and the consumer is indicating that, for them, this product, with this great alignment of software really is a must-have product and something that they need to have now.
On third-parties and ports…
First, let's talk about third-party. From our perspective, we want all of the best third-party content to make it to our platform, whether that's coming from the big publishers and developers or whether it's the independent community. As an example, we're thrilled that Celeste won [best independent game at the Game Awards] and Overcooked 2 won [best family game] and Dead Cells won [best action game]. These are all games that are on our platform and are performing exceptionally well for us. So, we want that content on our platform and we're thrilled when Bethesda gives us the level of support that they have or Take-Two gives us the level of support that they have. Now, when it comes to games from previous Nintendo generations – It's a statement of fact that the Wii U was not as successful as we hoped it would be and yet that platform had fantastic content. Now that the install base of Nintendo Switch is so much larger, it gives us an opportunity to bring those great games back and share it with consumers that maybe hadn't participated in the previous generation. For us, we're clear that, in terms of Nintendo-developed games, we want to bring new experiences from our best franchises to Nintendo Switch, and that's what you see with Smash Bros. and Pokemon. We also want to make sure that if a consumer didn't experience a great game, like Captain Toad, that we make it available on the platform as well. For third-party, big or small, we want all that best content to come.
On whether Nintendo wants a game like Red Dead Redemption 2 on Switch…
Absolutely. We'd love for it to be there. But again – and this is where there needs to be an understanding of just the development process – Red Dead has been in development for years, time that predated any communication of Nintendo Switch. So, from the developer's mentality, they need to move forward and finish the game they've been working on and then be in a position to look at other opportunities. Any game from a key third-party that's coming out now, typically that development started well before any conversations about Nintendo Switch. What happens moving forward? We'll see. But that's how you wind up with a situation with Red Dead not being available on our platform.
On getting certain characters into Smash Bros…
That becomes his challenge, right? (Laughs.) In terms of, "How am I going to do this? How is that character going to play?" We have found that as Nintendo has approached the owner of the intellectual property they're excited for that character to be a part of Super Smash Bros.
I personally have not been involved in those discussions, but as I have talked with Mr. Sakurai and others in the development area I've never heard of a story where we've been turned down as we pursued a particular character.
On the importance of announcing Joker for Smash Bros. Ultimate…
… The reason it was so important to showcase Joker was really to help the player understand that the net has been cast very wide for the different new fighters who will enter Super Smash Bros. Ultimate. From that perspective, it's going to be very exciting. As it gets closer to the launch of the next fighter we'll reveal that, so stay tuned for that.
On any more classic consoles or adding more games to currently-available classic consoles…
There's no ability for add-on content with our classic consoles, so when you purchase the console it's coming with that set roster of content. We worked very hard, both for the NES Classic and the SNES Classic, to really have the best games that defined that generation. We've said that the current systems are the extent of our classic program. We've also been clear that, at least from an Americas perspective, these products are going to be available through the holiday season and once they sell out, they're gone. And that's it. The way that consumers will be able to continue participating with our classic content is going to be through Nintendo Switch Online, and we just released three new games (Ninja Gaiden, Wario's Woods and Adventures of Lolo) from the NES generation onto that platform. We look at that as the main way that consumers will be able to experience that legacy content.
Leave a Reply