Reggie would have liked Smash Bros. to have been out earlier in the year since early December launch is "challenging"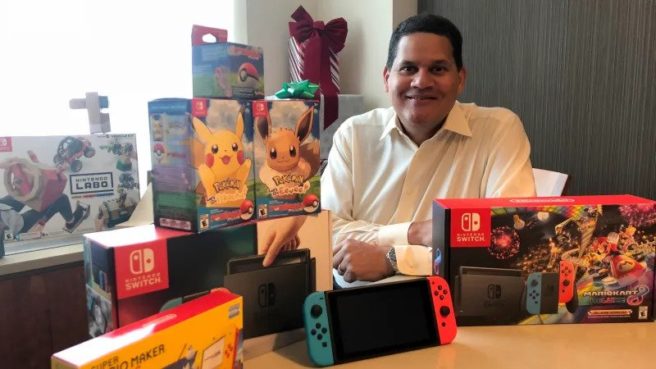 As Nintendo heads into the busy sales season that are the holidays, Kotaku caught up with Nintendo of America president Reggie Fils-Aime. Reggie spoke about why people should be interested in Super Smash Bros. Ultimate, the goal of of selling 20 million Switch systems this year, and reflected on Switch in 2018.
One interesting commented popped up when Reggie mentioned that he would liked to have seen Smash Bros. launch earlier in the year. Why? Because an early December launch is "challenging" business-wise and retailer-wise.
Here's a roundup of Reggie's more notable comments:
On the sales pitch for Smash Bros…
"Let's take Smash Bros. Smash Bros. is a brand-new Smash game. The broad roster of playable characters, new playable characters, that is a brand-new game. [The franchise director] Mr. Sakurai will continue to tweak the different characters until launch and even past launch. Brand new experience. We showed what the single-player experience looks like. That one is not anything from past systems. It is something brand new for that Smash players."
On reaching 20 million Switch systems sold in the latest fiscal year…
"That is our goal. This October, November, December timeframe is critical to us achieving that goal. We are well-positioned to do our fair share to meet that goal."
– Reggie pointed to the success of Mario Party, the promise of the Black Friday deals and more
– Super Mario Party is "doing quite well" in the Americas
On how PS4, not Switch, was on top for September 2018 as reported by the NPD (US sales)…
"For the first 12 months of availability, Nintendo Switch in the United States was the best-selling system of all time. Outsold the Wii, outsold the current competitive platforms, outsold all historical game consoles, best-selling platform. Our goal is to continue that trend, and we want to be in a position coming out of the holidays where we can be proud of our results compared to the Wii as well as against the current competitive consoles."
On what could have gone better in the first nine months of this year…
"Would I have loved to have seen, as an example, Smash Bros. launch earlier in the year? Certainly. An early December launch is challenging. It's challenging from a business perspective. It's challenging from a retailer perspective."
"But having said that, as I look at the pace of growth we've had, our ability to bring Fortnite to the system, our ability to have Diablo III on the system, Wolfenstein, you look at the third-party support which has been quite strong, when you look at the independent community support which has been quite strong, I believe when you and I reconnect in January and we look at our performance through the first 22 months of its life cycle, I believe we're going to be exceptionally proud of the result here in the U.S. of what Nintendo Switch has been able to do."
Leave a Reply