Retro City Rampage DX+ update announced and released (version 2.0.0), new physical version for Wii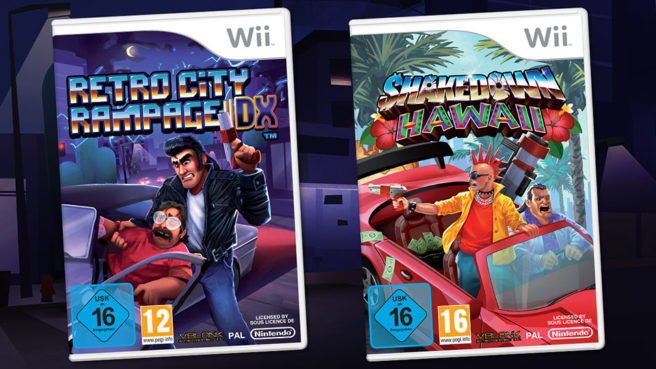 Vblank Entertainment has announced a brand new update for Retro City Rampage DX, aptly titled "Retro City Rampage DX+". The patch is live as of today on Switch, though the 3DS version will follow a bit later.
Retro City Rampage DX+ contains visual polish, more accessibility options, a smoother camera, and more. We have additional details straight from Vblank below.
It's the Ultimate Edition. It's the Definitive Edition. It's the Re-Remastered Edition. It's… well, I couldn't really decide, so I just called it "DX+". 😉

Retro City Rampage DX+ adds more visual polish — including animated cutscenes. It brings more accessibility options. It boasts a much smoother camera. It adds support for ultra-wide monitors and more dynamic aspect ratios. It includes more HUD options and overscan control to ensure the game (and UI) can better fill the screen. It improves vehicle spawning, improves swimming controls… the list goes on!

Like the original to 'DX' before it, 'DX+' is another top-to-bottom fresh coat of paint. I dove back in with a fresh pair of eyes, and once again played through the game over and over from beginning to end, further polishing and refining the experience each time.

I didn't want to flip the game on its head though, don't worry! The best refinements are often the subtle ones. The ones you won't even notice, but will leave you with a more satisfying experience. The best visual improvements, so complementary, feel like they were there all along. Simply put, if you're like me, you won't even remember an RCR that didn't have animated cutscenes after playing the update!

The DX+ update also benefits from the years of polish and work that went into Shakedown: Hawaii's engine. As I went back to play through RCR, many of SH's improvements became even more apparent, and I felt compelled to bring a lot of those back into to RCR too!

LET'S GET INTO SPECIFICS…

THE VISUALS

Right off the bat, you'll notice the shiny new animated cutscenes. Gone are the static images! Now, The Player walks into the frame, with his legs! He speaks, with his mouth! In all seriousness though, the new animation really gives it an extra 'oomph'. It's something I wanted to do 8 years ago, but the budget and schedule were just too tight back then. What you see on screen now is finally what I saw in my imagination!

When it comes to dialogue sequences, we now have fully animated character portraits. More than just moving lips, each animation evokes the character's personality. Their cartoonish rubbery faces, bouncy hair, and other silly accessories, truly bring them to life. Granted, I might've gotten a little carried away in a few instances, when I kept saying "add more hair!", just so there'd be more goofy bits bouncing around while the character's talking… but that's my style! If a character's dialogue portrait alone can make me laugh, we're hitting the the right mark.

For purists, the game still includes the "8-Bit Mode" option to render the game using more NES-like visuals. However, for those on board for the full experience, I decided to bend the NES limitations just a bit more, and take the rose-tinted glasses approach. To present things closer to how you remember NES games looking, rather that how they actually looked. Many character sprites and dialogue portraits also now sport more than the 3-4 colors of strict NES limitations, giving them more unique appearances, and making them easier to spot among a busy screen of tiny sprites.

---

THE HUD & UI

The HUD and UI have been reworked to more naturally fit your screen, whatever size or aspect ratio it might be. Speech bubbles and tutorial text now display transparently over of the play area (no more black bars or boxes covering the background). Text now extends to the screen edge, allowing for more to be displayed (and fewer presses to read it all).

The Status Bar style HUD option now supports all zoom modes. It also now has a smoothly scrolling mini map, instead of the original which scrolled an entire tile at a time. This smoother minimap has also been brought over to the Nintendo 3DS version.

HUD text now renders with a much more stylish and readable drop shadow look, which helps it stand out while leaving more of the play area visible. Plus, menus also sport some extra animation.

---

A NEW CAMERA

Although RCR's camera felt great to me at the time, after all of the work I put into Shakedown: Hawaii's new one, I really started to see areas for improvement. I spent a long time rewriting and refining SH's driving camera, and wanted to bring as many of those improvements back over to RCR as I could.

I'm incredibly happy with the final result, but also know that such a change could be big for some of you. As such, there is an option to turn it off in the settings, if you so choose.

---

SCREEN RESOLUTION SUPPORT

It may come as a shock now, but I never imagined doing this many ports of RCR when the project started. As such, it was originally designed for just one single resolution and aspect ratio. Over time, more were added, and it was tuned to fit the each platform, one by one.

However, it was about time that I just went ahead and rebuilt that part of the engine to operate much more dynamically. With the new system, the game now automatically adjusts to natively support a much wider range of resolutions and aspect ratios.

These improvements mean that the HUD can now extend to the screen edge (unless overscan is required), and ultrawide monitors will have an option to play without bars.

---

ADDITIONAL STUFF

There are more improvements here than I can even remember now (it had to be wrapped up in time for Wii manufacturing, last year). The vehicle spawning's been improved, so roads will feel more lively. The swimming controls are tighter. There are even some platform specific tweaks.

The 3DS update will bring much faster game saving, and improves in-game load times too (especially when starting arcade challenges).

Oh, and okay, the Switch icon now has the game's title on it 😉
That's not the only news regarding Retro City Rampage. Similar to what was announced for Shakedown: Hawaii last week, a new physical version for Wii will be produced. This is based on the PAL version of the game since copies can't be produced for North America, meaning discs will only work with European consoles.
Regardless, it'll be up to order on July 9 at 10 AM PT / 1 PM ET / 6 PM in the UK / 7 PM in Europe for $29.99. 3,000 copies will be made.
Leave a Reply