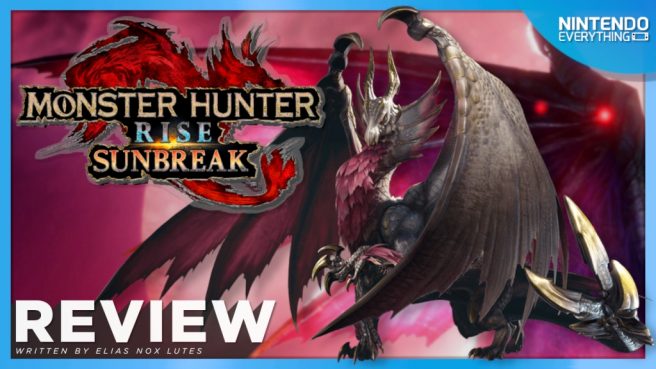 System: Switch
Release Date: June 30, 2022
Developer: Capcom
Publisher: Capcom
---
Monster Hunter Rise brought seamless zones to Nintendo's hybrid console last year in the spring, shipping over nine million units between then and now. With our Hunter leaving Kamura for Sunbreak's fresh new Elgado, how does the expansion for Rise fare?
Sunbreak opens with a simple plot – a neighboring kingdom is in need of help, and fast. The local population of monsters are out of control and Kamura's shining star has the perfect résumé to make short work of the problem. Arriving in Elgado is a breath of fresh air: new sights to see, new people to meet, and the promise of new monsters and hunting grounds from the local leaders seems lucrative. While trouble is not something a hunter isn't used to, the particularly savage nature of the locale is a bit daunting, but nevertheless, we saunter on.
Almost immediately, we are thrown into action, taking on a giant Daimyo Hermitaur and starting our next journey in Rise. Right away, some subtle additions can be observed: new wire bugs to collect that help the player increase Monster Riding skills, and a plethora of other changes and balances making everything feel a little new as you encounter new places and new creatures. The zones in particular are stunning, each with its own local flora and fauna – and plenty of nooks and crannies to explore for the valuable new resources that will be needed for Sunbreak's myriad equipment upgrades.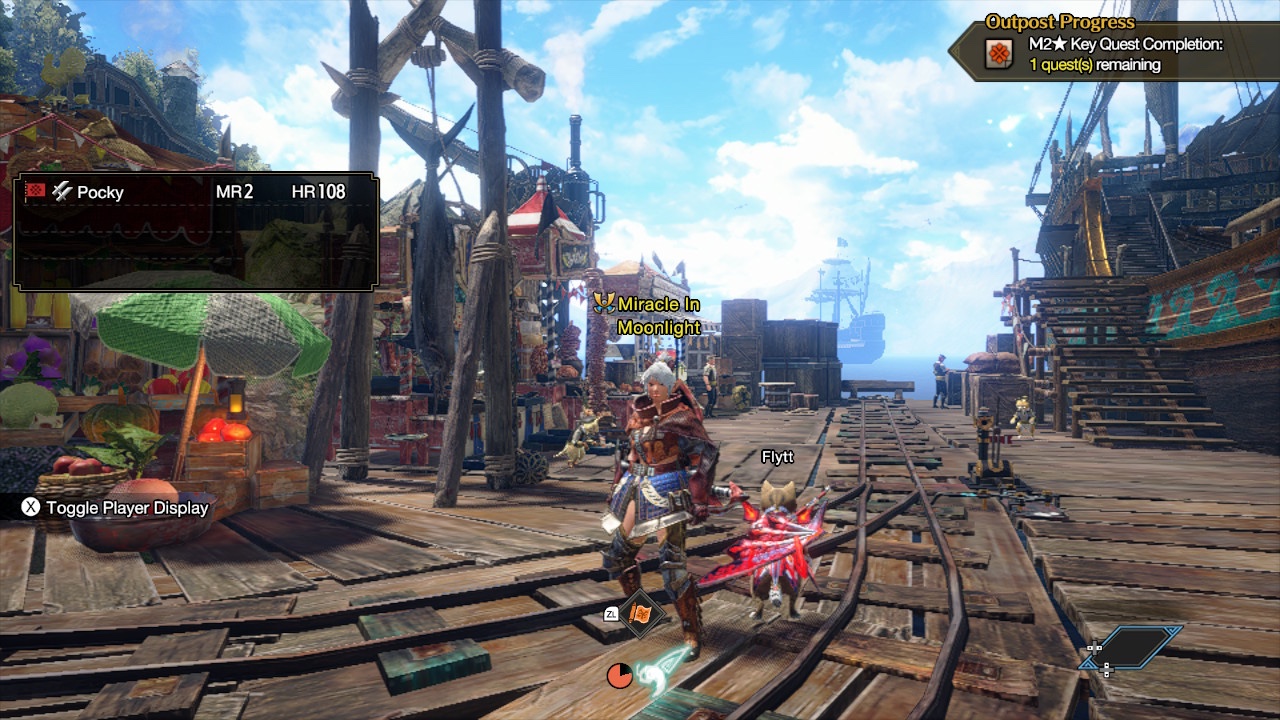 Sunbreak also brings with it Master Rank, which can be seen as a true endgame with brutal monster variants and a variety of new weapons and armor to forge and upgrade. Master Rank's challenges and rewards are a huge jump from what players are used to in Rise, seeing gains in defense and elemental properties and sometimes even dual elements or impressive affinity and decoration slots for newly forged equipment. Just like before, hunters will forge a path through the wilds to hunt down and attempt to make lampshades out of the most pumped up versions of beastly foes, and they're going to need some pretty impressive tools and defensive equipment in order to be successful.
The game does allow for the player to travel freely between Elgado and Kamura, so hanging out with players who don't have the expansion is still possible, as are the random quest matchmaking services available at each quest board. Players shouldn't see any increase in the time needed to set up random groups for hunts, either, which is very helpful if you intend to go back and finish any of Rise's loose ends if you have them. Don't forget to unlock your weapon abilities and dango!
Along with Master Rank, Sunbreak also allows players to use Switch Skill Swap, effectively allowing the Hunter to toggle between two different Switch Skill styles to tailor gameplay even further toward player preferences, with even more Switch Skills unlocked as the player progresses through Sunbreak's story. These changes make it even more easy to take on Elgado's trio of baddies, which all seemed to be yanked out of the pages of old horror classics for a wonderful flavor change from Rise's more elegant theme.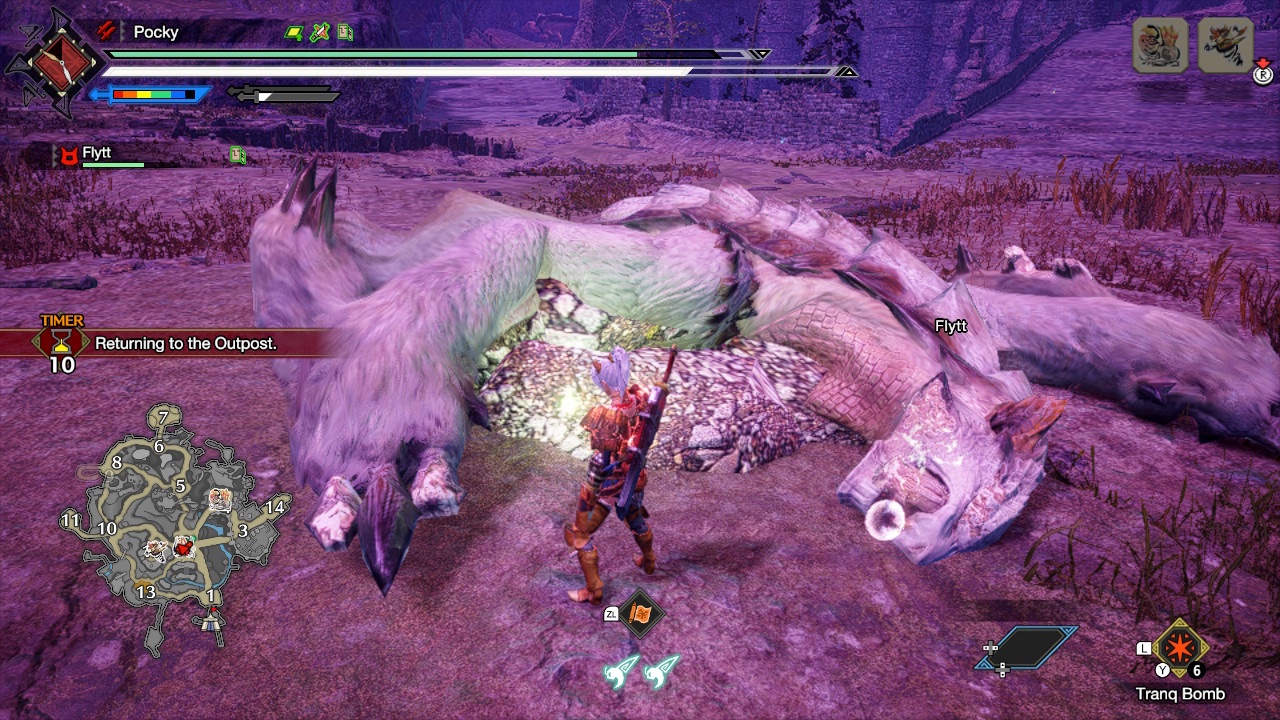 Another interesting addition are Follower Quests. These quests allow NPC characters to tag along with the player to complete objectives. The rewards for these missions can include weapon and armor upgrades, as well as addition NPC's that the player can start taking along. As requests get completed, more are unlocked, with some even being triggered by story advancement. This entire system has changed the solo player experience quite a bit, feeling like a more collaborative experience than a lonely slog through a dangerous ecosystem where everything wants to kill you. Having a friend keep an eye on your back is never a bad thing.
So what about our trio of big guys? Garangolm, Lunagaron, and Malzeno are not the only monstrosities to be on the look out for. Many subspecies and variant monsters will be discovered, including the Seething Bazelgeuse and the absolutely infuriating Seregios, who is responsible for my first quest fail, and my second and third ones as well (it's made of spikes and murder, beware!) Being able to see new creatures as well as old favorites is always an absolute joy, and there is a wonderfully surprising fight to look forward to at endgame.
Almost every system in Sunbreak improves upon Rise's original formulas, down to the Bunny Dango used for food buffs. While mechanically the game is wonderful, the biggest lacking point for Sunbreak is its story. While some players mash their way through Monster Hunter campaigns, Rise and World saw a bit of a change in how the presentation and world building of the series have grown and evolved with each release, but Sunbreak stays as much of the same, feeling a little stale. For those who do enjoy the story, make sure to take NPC's on your solo quests. Their behaviors and dialogue are absolutely worth it, and the AI combat is quite helpful in speeding up solo hunts.
---
The Verdict

---
Capcom's latest expansion has done a wonderful job adding new content and streamlining combat. With new wire bug moves and a host of variety in combat, Sunbreak is a great addition to what Rise gave us last year. While the storytelling of Sunbreak is a weak point, it's in no way terrible. Although I found myself zoning out a few times through conversations that seemed way to stretched out, the enticing grind of "kill thing, make something stabby out of thing, go beat up bigger thing" feels like home.
---
Monster Hunter Rise: Sunbreak copy provided by the publisher for the purposes of this review.
Leave a Reply