River City Girls Zero details physical release, including special editions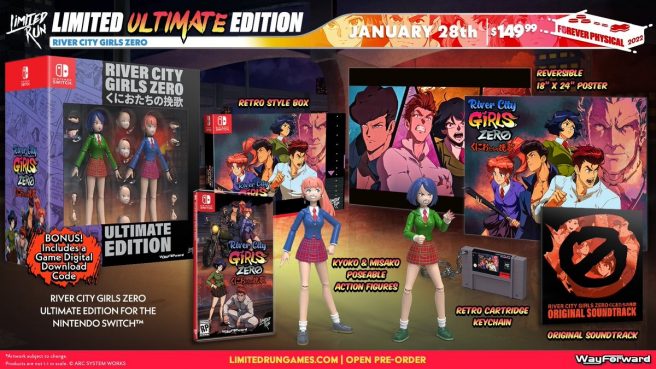 Limited Run Games has shared details on a new physical release of River City Girls Zero for Switch.
Fans will be able to choose between a few different options: standard, Classic Edition, and Ultimate Edition. The Classic Edition packs in a copy of the game, a reversible 18″ 24″ poster, and an original soundtrack in a retro box. The Ultimate Edition features a copy of the game, a poster, a soundtrack, and a retro cart keychain as well as posable Misako & Kyoko action figures.
Below is some information about River City Girls Zero:
River City Girls Zero, meanwhile, lets you experience the first time that Misako and Kyoko teamed up with Kunio and Riki to take to the streets in hard-hitting, curb-stomping action. While the graphics, music, and gameplay all remain true to the classic 16-bit Super Famicom release, this version marks the first time the 1994 game will be localized for the West. A new opening cinematic, new manga cutscenes, and new theme song by River City Girls composer Megan McDuffee have been added as well. Set out solo or team up with a friend in local co-op and discover how the River City Girls story began!
The physical versions of River City Girls Zero will go up for pre-order through Limited Run Games starting on January 28. Reservations will be live for six weeks.
Leave a Reply