Rocket League update out now (1.1.0 / 1.50), patch notes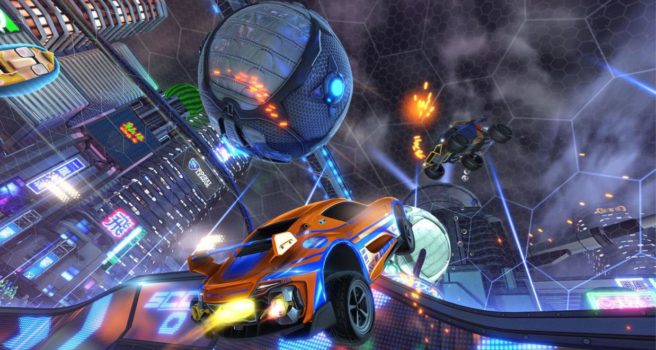 Rocket League's next update is live, and it's a big one. When downloaded on Switch, it'll be version 1.1.0. This is also known as the 1.50 update.
Today's update is highlighted by the progression system. You can also make a "Club" with other players to participate in Club Matches, and Rocket Pass 1 goes live next week.
Below are the full (and lengthy) patch notes:
THE HEADLINES

Progression: Gaining Experience and Leveling Up has been rebuilt from the ground-up

Clubs: You can now form a 'Club' with other players and participate in Club Matches

Rocket Pass 1 will go live one week after this update's release

Match Forfeit adjustments

Real-time text filtering has been added for Player Names, Clubs, and Tournaments

NEW CONTENT

Rocket Pass

Rocket Pass 1 will go live the week after this update is released

Read more about Rocket Pass here

Achievements and Trophies

'Join the Club!'

'Together is Better'

'New Challenger'

'People Person'

'Squad Goals'

'Best of the Bunch'

CHANGES AND UPDATES

General

The Garage Tabs have been reordered to make Goal Explosions easier to access

Increased Maximum Keys allowed in a single trade to 200

[Steam] Added "Particle Detail" to Video Options

[Nintendo Switch] Text Size of UI is now adjusted between Docked and Undocked states

Spectator Camera: Player hotkeys are now synchronized across all spectators

Updated visuals on some Arenas to better handle alternate team colors

Added controller vibration when you matchmake into a game

Progression

Gaining Experience and Leveling Up have been rebuilt from the ground-up

Experience (XP)

You can now only earn XP in Online Casual & Competitive Matches

XP is now primarily based on Match Length, not your score

You earn a scaling amount of XP for each second of a match, including Overtime, up to a maximum of 20 minutes

A match must be at least 60 seconds long to reward any XP

New match XP bonuses have been added, including:

Score

MVP

Consecutive Games (when you stay in the same Casual server)

Backfill (when you replace a bot in a Casual match)

Weekly Wins

Each day, you accumulate 2 Weekly Win bonuses, up to a maximum of 14 (one week's worth)

Each win earns +200% XP and consumes one of your bonus wins

XP is only rewarded if a match is completed

Forfeiting a match counts as match completion

Match Stats that grant Score have been revised to focus on important events

Goals, Assists, Saves, Clears, etc. all still give Score and a notification

First Touch, Aerial Hit, Bicycle Hit, and Juggle Hit no longer award Score

These stats are still tracked and updated for your Career Stats page

Leveling

From Level 20 upward, Levels now require a flat amount of XP instead of taking progressively longer to earn

The Level 75 cap has been removed; there is no longer a Level cap

Conversion

All players have been converted to a new Level based on multiple factors, including total Online Matches played and total XP earned

Players Level 40 and below convert to roughly the same level as before

Players above Level 40 convert to a higher level than before

Players who have been capped at Level 75 for some time will gain extra Levels based on total Online Matches played

Rewards

Avatar Borders

Added a new Customization Item: Avatar Borders

You unlock new Avatar Borders by leveling up in addition to Titles

You can select a Border and customize its coloration from the Garage submenu

Borders are unlocked every 25 Levels up to Level 300, after which they are unlocked every 50 Levels

Uncommon / "Online" Drops

You will now receive a random Uncommon or higher item every time you Level up

Uncommon items and higher will no longer drop randomly after matches

Common / "Offline" Drops

You will now unlock all Common items for a specific Customization Item slot simultaneously, rather than one at a time

Each slot's Common items are unlocked after a set number of total matches played (Online or Offline)

You will not lose access to any Common items you have already unlocked

Titles

Titles are now awarded to your account for reaching specific Levels

You will retain any Titles you have previously earned

You can equip any Title you have acquired via the "Titles" option in the Garage submenu, not just the highest-level one you possess

The 'Rookie' and 'Semi-Pro' Titles have been removed as part of this change to prevent players from equipping misleading titles for their skill level

Legacy XP Titles have had their level requirements adjusted for the new XP system.

'Veteran': Level 20

'Expert': Level 40

'Master': Level 60

'Legend': Level 80

'Rocketeer': Level 100

Additional new titles are available every one hundred Levels after Level 100

Titles will also be available elsewhere, including Rocket Pass and Events

Match Forfeit

Forfeit Votes can no longer be triggered until 90 seconds have elapsed in a given Competitive Match

1v1 Competitive Matches do not have the 90-second restriction

You can still Vote to Forfeit even after another player has left your team

Forfeiting allows you to still earn XP and rewards for a match

If you "Leave" early you will not earn XP

Players can now only trigger one Forfeit vote each unless everyone on their team has also initiated a Forfeit vote

Clubs

You can now form a 'Club' with other players

A Club consists of:

A roster of up to 20 members

A Club Name

Between 3-32 characters

Club Names are not unique

A Club Tag

Between 2-4 characters

Shows before your username on banners, scoreboards, etc.

Club Tags are not unique

Club Colors

Club Owner

The player who created the Club by default

Can add/remove members

Ownership can be transferred to another Club member by the owner

Club Owners must transfer ownership before they leave a Club

Editing Your Club

The Club owner can rename a Club (name & tag) once per week

The Club owner can change the Club's colors with no restrictions

Club Matches

When a Casual or Competitive Match is created and if each team is composed entirely of members of a single Club (one per team), a "Club Match" will be activated

Club Matches change the team colors and stadium colors to Club colors

If the colors are too similar, we find a suitable color for one team by first attempting to use their Secondary color, then a neutral option

Club Members who wish to opt out of this functionality can enable "Force Default Team Colors" under Interface Options

Club Names will replace "Blue Team" and "Orange Team" on the scoreboard, and when goals are scored

Club Matches do not occur in 1v1 matches, Private Matches, or Tournaments

Club Utilities

Clubs can set a Message of the Day (MOTD) to easily communicate to all members

The Private Match button in the Club Menu lets you quickly and easily create or join a lobby just for your Club

Verification

Clubs may be "Verified" which adds an exclusive checkmark by their name on the in-game scoreboard

This verification flag guarantees a particular club / player is the "real" one verified by Psyonix

Club Tags and Names are unique among Verified Clubs, but are not globally unique

Changing a Verified Club's name or tag will cause it to lose verified status

Verification will only be made available to select partners and esports organizations

Cross-Platform

Clubs support cross-platform membership, but you will not be able to invite cross-platform players until the RocketID system is released later this year

Text Filtering

Implemented a new real-time text filtering system that applies to the following cases on all platforms:

Player Names

Club Names & Tags

Tournament Names and Team Names

Chat will be added to this filter system in a future update

BUG FIXES

General

Fixed Postgame Spotlight camera breaking if players left the match

When the "Match Notifications" option is set to Time Updates or Kickoffs Only, you will once again hear the audio cues for hidden notifications like "1 Minute Remaining"

Fixed an issue that could cause reconnecting to a Ranked Match to fail

Fixed appearance of Painted 'Mainframe' Decals

Fixed chat input being lost when an item popup occurs

Fixed an issue causing ball trail effects to shorten at high framerates

Fixed removing items from a trade by selecting them in the trade window

Fixed paint finish on ''89 Batmobile'

Trails are now properly aligned with Wheels on ''99 Nissan Skyline GT-R R34'

Thumbnail of Painted 'K2' Wheels now display the correct color

Battle-Cars no longer spawn in as invisible to some players

Titanium White 'MDGA' Decal no longer appears as grey

Event Currency notification now properly displays after a match ends

KNOWN ISSUES

New item notification shows for some players in Garage despite having no new items

On Salty Shores, some ground textures load a few seconds after reaching the Choose Team screen

Moving quickly between the Showroom and Garage may cause Boosts and Trails to not display properly when viewing in Redeem Rewards and Crate Preview menus

Some Gray Wheels (Voltaic) may appear similar to Titanium White variants

Black texture can be seen sometimes outside of the Neo Tokyo and Tokyo Underpass Arenas
Leave a Reply