Rose & Camellia Collection confirmed for western release on Switch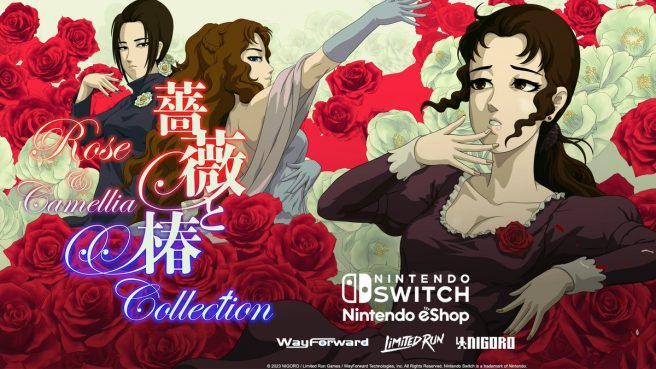 Previously announced for Switch in Japan, Rose & Camellia Collection has now been confirmed for the system in the west. WayForward will be handling publishing in late 2023 / early 2024.
Rose & Camellia Collection is an absurd one-on-one slap-fight anthology featuring five games, more than 30 characters, and all-new English voicework, Rose & Camellia Collection.
Here's some additional information:
Rose & Camellia Collection tells the tale of an over-the-top upper-crust inheritance battle spread across five games: Rose & Camellia, Rose & Camellia 2, crossover title Rose & Camellia vs. La-Mulana, and all-new entries Rose & Camellia 3 and 4 (debuting in this collection). As tensions and tempers rise amidst the division of family wealth and power, so do open hands, resulting in a series of ludicrous one-on-one slap battles between the all-female cast. Using either immersive Joy-Con motion controls or touch-screen swipes, players will smack some respect into their aristocratic adversaries by slapping, dodging, feinting, and countering until only one heiress is left standing.

Initially debuting in the early 2000s as a hit online Flash series, Rose & Camellia Collection marks the first time the saga will be available on a dedicated gaming console, providing the definitive versions of the included games by adding high-definition visuals, full English voiceovers (plus text in English, French, Spanish, Italian, German, and Japanese), an anime-style opening, and two all-new vocal songs by frequent WayForward collaborator Cristina "Vee" Valenzuela. Complementing the single-player story mode, the collection also offers a new competitive two-player local versus mode, in which one player controls one of the heroines, and the other plays as one of the villains.
Have a look at the English reveal below.
WayForward announcement trailer
Limited Run Games will publish Rose & Camellia Collection on Switch digitally. Limited Run Games will be producing a physical release.
Leave a Reply