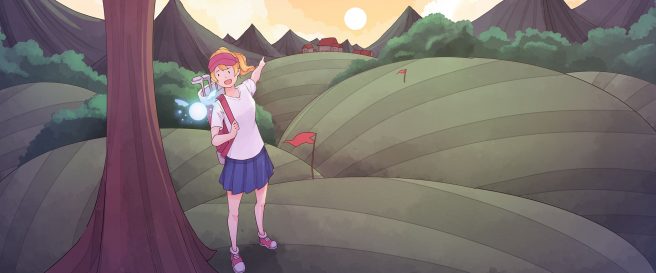 Kemco and ArticNet have shared a new English translation of the announcement trailer for RPGolf Legends, a direct sequel to RPG-golf hybrid game RPGolf. No official release date has been announced, but the game is scheduled to arrive sometime in 2022. Here's the trailer, along with RPGolf Legends' official overview:
An evil force has sealed all the golf holes in the world! Join forces with the spirit of a golf club and embark on a fantastic action-golfing adventure to save golf in the world!

Travel around in a unique open-world where monsters and golf coexist, get your best scores in 6 unique environments and beat monsters! When you are resting, do not forget to help people with their quests… every encounter counts!

Thanks to the class system, you will also get new skills, special items and a brand new look! Whether you spend your time golfing, fishing, crafting or exploring… is entirely up to you.

A fantastic journey is about to start!

Features

A total of 54 holes to enjoy in six unique environments

Play golf tournaments and match plays against NPCs

Fight formidable foes using …golf clubs!

A unique class system featuring unique skills and look

Dungeons to explore and golf puzzles to solve


An open world full of characters and different quests to complete

Go around the world fishing, crafting, exploring and a lot more!
Leave a Reply