Sakurai details Psycho Soldier's laborious re-recording process for Smash Bros. Ultimate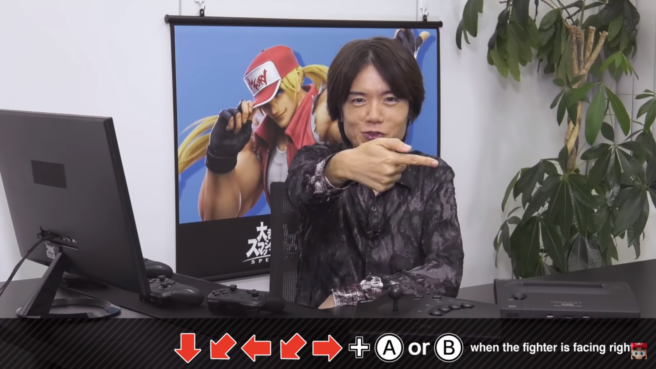 In last week's issue of Famitsu, Masahiro Sakurai published his latest column. This article gives readers a glimpse behind the scenes of the extensive recording production for the main theme of Psycho Soldier. The song was was rearranged and rerecorded for the most recent wave of DLC from the Super Smash Bros. Ultimate Fighter's Pass, celebrating Terry Bogard's inclusion.
We've prepared a full translation below the break.
Super Smash Bros. Ultimate's newest fighter, Terry Bogard, has been released at last! Since he'll be expanded upon as a fighter in "Mr. Sakurai Presents Terry Bogard", I'll leave it to the video to do the explaining – please give it a watch!

Today, I'd like to share an inside look at the making of just one of the near-countless music tracks included in Super Smash Bros. Ultimate.

About half a year ago I spent my day-off at a certain studio in the Toyoda ward of Tokyo for the new recording of Psycho Soldier's main theme for Super Smash Bros. Ultimate.

What is Psycho Soldier, you ask? It's a game from SNK that released in arcades back in 1987, renowned for being the first game with a main theme song. The game's protagonist is Athena Asamiya. The Famicom version of Athena came with the song on a special cassette tape, so some of you may already be familiar with it.

The person in charge of the arrangement was the well-known Yūzō Koshiro, while Kanako Kotera (known as Kotekana) provided the vocals.I had seen Kotekana at a Falcom concert a while back—she's a vibrant person who could put a smile on anyone's face.

This was after the recording for the guitars and other instruments had been done, and after my involvement in supervising the music programming stage was through. The song already sounded incredibly full by that time. A lot of awesome work went into the recordings in order to give it a 1980's flavor.

They began with recording the song's vocals. Though there were only 3 verses to record, they did countless retakes, each of them all in one take. In music production it's commonplace to cut and paste the stronger takes, so I wondered why they went to such lengths with this recording. When I asked Mr. Koshiro about it, it made sense:it seems that recording in one take, without any edits, is pivotal to nailing that 80's feel.Even the instruments like guitars and such were essentially done in one take.

It was a pretty extreme detail to be particular about, but what impressed me most was Kotekana and how she was having such a great time with it! Recording went rather smoothly despite some requests for minor readjustments, including a few from me. I can only wonder how many takes it ended up being…

The Overseas version began after the Japanese version wrapped up. The Japanese version had 3 verses to record, but the Overseas version only had one verse. So they made the second verse entirely instrumental—this is actually closer to the original Psycho Soldier, and it made this version feel very unique. They had a number of interludes pre-recorded, and they ended up going with the Tenor Sax one. The Overseas version of the song is sung a bit differently than the original, so please give them both a listen and compare the two.

After that, they recorded the chorus. I asked them to punch up the third one, so they rerecorded it all in one take again, just for me.

As a result, it was a huge endeavor comprised of over 80 tracks! 80 tracks in and of itself is quite a lot – it may be a new record for Koshiro-san among the songs that he's recorded!

Of course, everyone has a budget, however. If an arranger throws something together cheaply, they'll have increased profits; that being said, there are also arrangers that pay close attention to the quality of what they're making, freely utilizing both orchestral and "raw" sounds. Those are the kinds of people who put all of their willpower and spirit into making something wonderful. I'm especially grateful for all of the musicians' efforts and hospitality on this project. There were a lot of people involved in recording, and while I was worried about the costs, it's thanks to all of them that we were able to make something so incredible.

And with that, we've talked about just one part of what comprises the music of Super Smash Bros. Ultimate. There are other aspects that are similar, of course, but I'd just be glad if everybody walked away from this knowing that behind all the luxury and extravagance there's a lot of hard work being done!!
---
Translation provided by Nico Thaxton and Oni Dino on behalf of Nintendo Everything.
If you use any of this translation, please be sure to source Nintendo Everything. Do not copy its full contents.
Leave a Reply