Sakurai further explains why he feels Smash Bros. and online play aren't a good fit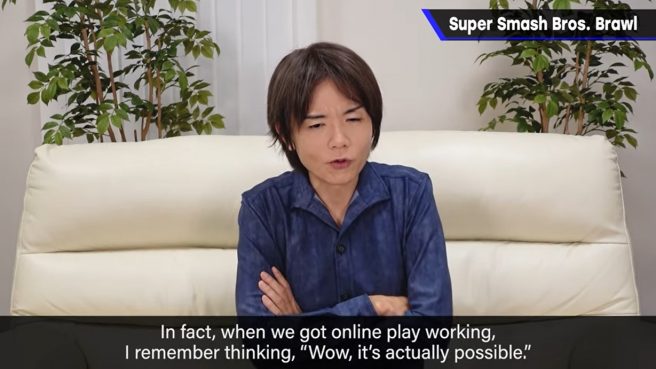 In a new video posted today, Smash Bros. director Masahiro Sakurai shared more of his thoughts on why he feels the series isn't the best fit with online play.
Sakurai was addressing the topic while speaking about the creation of Super Smash Bros. Brawl, which was the first entry in the franchise to support the feature. We previously heard him talking about this a bit in a column a couple of years ago.
Sakurai brought up how "online competition can cause people to lose confidence". Also, technical aspects can get in the way with the need for synchronous communication and issues with network lag.
"I don't think online play and Smash Bros. are a very good fit for each other. One of the best parts of Smash Bros. is how players can become champions among their friends. But being subjected to online competition can cause people to lose confidence, which isn't great.

What's more, the game has to use fully synchronous communication. Compared to the asynchronous communication seen in games like Mario Kart, that's a major disadvantage. You're limited to playing with people as close to you as possible, so it works best sticking to not just your own country, but even your own local region within in. Plus, network lag tends to make the game a pretty choppy experience.

Still, when it comes to technical issues, it doesn't really matter what I personally think. If my job is to do it, I'll do it. And you never know, it could be fun in its own way. In fact, when we got online play working, I remember thinking, 'Wow, it's actually possible.'"
Something else Sakurai discussed in his video is not making Brawl as hardcore as Super Smash Bros. Melee. One of the reasons for doing so was that "demanding controls would have proven a problem during online matches at the time."
On the whole, Sakurai's video is pretty interesting. Most of it covers the two key parts planned for the game – the first being online, but the other being a single-player mode, which became Subspace Emissary.
You can check out the full video here.
Leave a Reply