Sakurai on how the Smash Bros. Ultimate Classic Mode mural was designed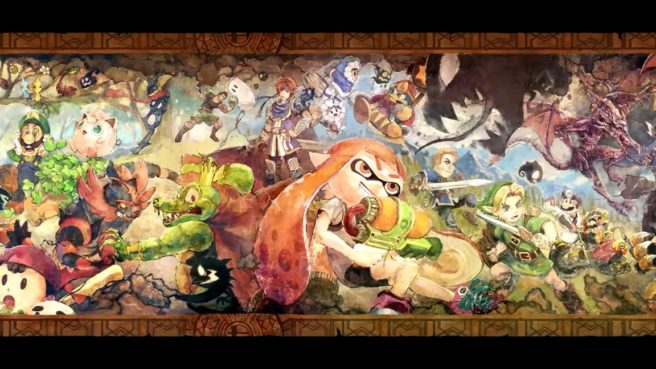 Last week, Super Smash Bros. Ultimate director Masahiro Sakurai published one of his regular columns in Famitsu. This time around though, it wasn't really Smash Bros.-related. Sakurai took on a few fan questions, but there was really only one part of the column that was noteworthy.
When initially going into Smash Bros. Ultimate's Classic Mode and selecting the intensity, players are treated to a gorgeous mural showing off the game's large roster. One fan asked Sakurai about how that art was created.
Here's the full exchange:
"What kind of person drew the mural used to express the difficulty in Ultimate's Classic Mode? Each character was recreated faithfully, it's incredible – and this is just coming from somebody who has zero aptitude for appreciating art. Also, I'm looking forward to the DLC. Take care of yourself, Sakurai-san, do your best!"

Sakurai: "Thank you very much! A few members of the staff worked on it, offering up a stylistic caricature while maintaining the integrity of the design, all the while fine-tuning their work. In addition to getting an OK from me, though, we had to go through and get the OK from each IP's original publisher, so it took a lot more time and effort than just having to draw it."
Leave a Reply