Sakurai on implementing Sephiroth into Smash Bros. Ultimate, reveal trailer, more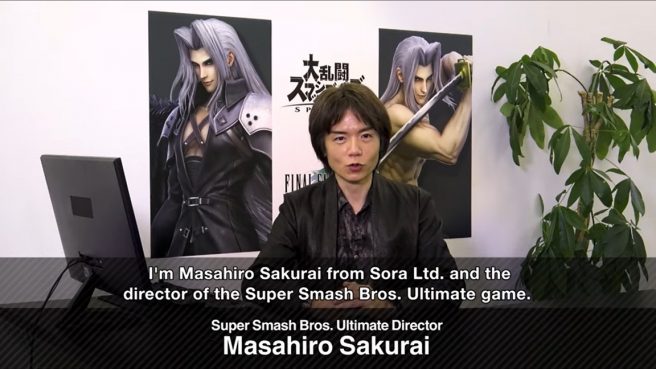 Super Smash Bros. Ultimate director Masahiro Sakurai published his latest Famitsu column this week. Given that Sephiroth just joined the game as the latest DLC character, it makes sense that the piece was entirely about the new roster addition.
Sakurai's column offers insight into how Sephiroth was implemented, including the challenges involved and his "Winged Form". He also briefly touches on the game's reveal trailer.
Here's our full translation:
Firstly, I want to express my gratitude for the opportunity to work on such a well-renowned game. Final Fantasy VII (FFVII) left a lasting impact on the industry and both FFVII Advent Children and FFVII Remake were titles with incredibly stylish graphics that players could enjoy. It is an honor to have worked on something that has influenced so many people.

By the time this column is published, the "Sephiroth Challenge" would have finished, and the character should be available for everyone. Just note that as I write this, the character hasn't even been announced yet! How is he?

Anyhow, the latest Smash Ultimate character, Sephiroth, is now available which makes him the second playable character from FFVII after Cloud. Many of Smash's DLC characters are protagonists and it's rare for an antagonist or rival character to be added – could this be the first time that's happened?

I wanted Sephiroth to feel like a boss character, with boss-like strength that players can enjoy. With that in mind, I chose to make the Sephiroth Challenge available for a limited time, which made development a bit of a nightmare. The game mode itself was easy enough, but tweaking balance took an extraordinary amount of time and effort both before and after his release. It's something that I'll have to reflect on, but I hope you all enjoyed it.

I'd like to share some behind the scenes stories from his development. For more detail on the character's gameplay, I go into more detail in the official "Super Smash Bros. Ultimate – Mr. Sakurai Presents 'Sephiroth'" video so if you're interested, please go search for that. The first problem we had when making Sephiroth was considering how to incorporate his long sword into the game. While it was certainly a huge problem, it was still easier than making Steve! His range isn't quite the same as Min Min's, so we instead looked at the successful creation of characters like Simon and approached it how we usually do it (well, we tried to at least). Things were going well until we had to also create an image of a character who deals massive damage.

If a character has long range attacks and can hit the opponent hard, they don't need to be as fast or mobile. The downside of that is it makes the character harder to control. To avoid this, we made some adjustments so players wouldn't feel this way, and if a move has lot of recovery, it should be obvious to the player why that's the case.

We also added new characteristics to Sephiroth's move unlike any other existing character. Firstly, there's the "Winged Form" mechanic. This system allows Sephiroth to grow his wing when he is in danger, powering him up. To keep things fair fighting games, a character's strength should never change in middle of a game. However, other games have mechanics where characters become stronger when they are close to defeat, creating a comeback that would be more exciting and enjoyable for players and spectators alike. In most games with these comeback mechanics, there are special meters available for all characters. In Smash, the focus is instead on each character being unique, and the "Winged Form" mechanic is one way Sephiroth is unique to other characters. Whether or not you have the wing or not during the match will surely add excitement to gameplay.

Moving on to the announcement movie, I must say that "One-Winged Angel" is the best! We based his trailer around the music and thought hard about how to best showcase Sephiroth throughout the trailer. We hope that the movie left a strong impression on viewers, with Sephiroth changing the whole tide of the battle with one swing of his sword. The graphics were of course made with Advent Children in mind and despite the plot being written before FFVII Remake was released, I think that was a great movie.

I'd love to talk more about the stage, Final Smash, music and all sorts of other things, but regrettably there's not enough space for me to write. I am just glad that the character is released before the year ended. I hope everyone has a great year ahead!
---
Translation provided by centurionnugget and Jarop on behalf of Nintendo Everything.
If you use any of this translation, please be sure to source Nintendo Everything. Do not copy its full contents.
Leave a Reply