Sakurai on Smash Bros. Ultimate – plans for even more DLC, not taking big breaks, pushing records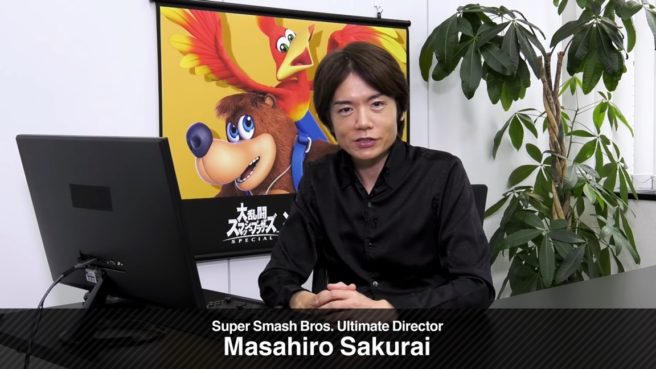 September has been a big month for Super Smash Bros. Ultimate. Banjo-Kazooie was added to the game, Terry Bogard from Fatal Fury was revealed, and it was announced that even more DLC characters are on the way.
Masahiro Sakurai discussed the major news in his latest Famitsu column, which we now have a full translation of. The Smash Bros. director commented on plans for even more DLC fighters (including that Nintendo again makes the decision on who should be implemented), not taking any big breaks, and wanting to push records as a massive fighter with many collaborations.
Here's our full translation:
I believe Banjo & Kazooie were just released as a fighter in Smash Bros. Ultimate; they're a pair that have been pretty highly anticipated the world over. I'll be discussing them a little bit more in "Mr. Sakurai Presents 'Banjo & Kazooie!'"

Nintendo has also announced that in addition the five characters from the pre-existing Fighter Pass, even more new fighters are to be developed! I'll be talking a little bit more about that today.

First of all, I'd like to reiterate that lineup was essentially Nintendo's decision. They – of course – consult with me as to whether it's possible or not for me to make a fighter among other things, and if it isn't feasible, I can refuse.

Once our development staff has finished working on a project, they're able to move onto the next one; and for each project they work on, the process can be broken down into steps. That being said, I can't help but insert myself into the process: from the earliest stages of development I'll help the team out where I can with regard to ideas and planning. On the other hand, it's also necessary of me to spend all the time up until release looking for problems. The initial steps of the job mostly consist of planning and configuring the 6 – and onwards – initial DLC fighters, while the very last step consists of recording the "Mr. Sakurai Presents" segments and the like.

I don't really tend to focus on finishing up one thing at a time, though – I always spread myself thin across a number of different jobs. The disconnect between different jobs can be pretty big, so it's sometimes necessary to shift gears in my head.

As long as I'm working on Smash Bros. and nothing else, though, I'll give it my all – I won't be taking any big breaks. Since the development team working on the DLC is considerably smaller, everything is easier to look over than, say, the work of hundreds of people. That being said, though, the amount of work I have to check up on over the course of the day is still quite a bit.

As far as I'm concerned, the goal is still a good distance away. Since the days of Smash Bros. for Wii U/3DS, I've been working consistently on Smash Bros. All this time I've continued using the same workspace, as if I were developing an online game. How many years has it been now that I've been working on this… Seven or eight? That's a pretty huge chunk of my life!

I enjoy it though – at the very least it's an exciting job, and the work is varied.

First of all, I'd like to say it's been a privilege working with so many different titles. I've played a substantial variety of games so far, and I'm fairly well-acquainted with them at this point. That's a big plus for me; I think I'm pretty well suited for the job!

It takes a bit of thought to then be able to incorporate each character and game into Smash Bros' own gameplay mechanics. Developing the characters' and producing their introduction videos in such a short production cycle keeps me busy, but it isn't necessarily a "bad" kind of busy.

Above all else, though, Smash Bros. is pretty exceptional on its own. By having every fighter from previous entries return – not to say nothing of the record-setting number of collaborations in terms of Spirits and the music tracks used – Ultimate is absolutely unprecedented.

All things considered, however, if Smash Bros. is to continue as a series, I don't think it will really be feasible to bring in this many fighters or titles again.

Even with the amount of achievements this game has managed to reach, requests for new fighters from all over the world are still pouring in! No matter where you look, you won't find another game like this.

If there's an opportunity to do so, I'd like to keep pushing those records. Even if it's just by adding a new fighter, if there's a possibility it'll make somebody out there happy, I want to keep going.

At the moment I'm not really thinking about the series' future; my plan is to keep putting all of my efforts into the task at hand, and there's still even more and more to come!
---
Translation by provided by Nico Thaxton on behalf of Nintendo Everything
If you use any of this translation, please be sure to source Nintendo Everything. Do not copy its full contents.
Leave a Reply