Sakurai reflects on 20 years of Smash Bros., his future as a developer, Piranha Plant in Ultimate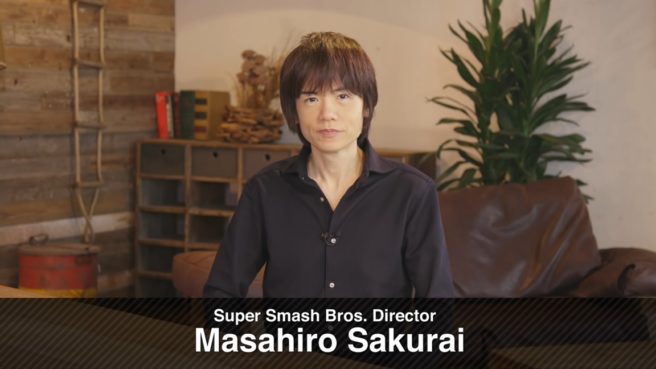 Super Smash Bros. director Masahiro Sakurai published a new column in this week's issue of Famitsu. The series recently celebrated its 20th anniversary, so Sakurai had a few words to share such as how it wasn't always a sure thing that the franchise would continue. He gets pretty reflective here as well as later in the piece when he starts thinking about what lies ahead for his future as a developer. Outside of that, we also get to see a bit of talk about Piranha Plant in Super Smash Bros. Ultimate.
We've prepared a full translation of Sakurai's column. Continue on below to read it in full.
The first Super Smash Bros. game was released on January 21st, 1999 – in other words, the series recently celebrated its 20th anniversary!

Given the amount of licensing agreements, the fact that I left the original development company, and the sheer volume of the games, I really was on thin ice with regard to continuing the series. Thanks to the team and all associated people, the owners to the rights for series, and – above all else, of course – the fans that have supported the games, I was able to make it this far. Once again, I offer my deepest thanks.

I've heard all sorts of stories and congratulations through my Twitter mentions, too. Over the past 20 years I've been able to catch glimpses of people having fun and enjoying Smash Bros. at home, tournaments, get-togethers, etc. and as a creator that makes me very happy.

That being said, the child I've raised up over the years is 20 now – and extraordinarily big! I hear a lot of stories about how people that played Smash Bros. when they were kids are now playing it with children of their own! Since Kirby's Dream Land was first released on April 27th, 1992, this year marks that series' 27th anniversary. Due to development periods, I've been making games for roughly 30 years now – that's amazing!

I'll just say it – I'm old!! I have more wrinkles and my eyes have gotten worse, and I feel like my ability to remember things and my conversations have weakened a bit, too. I'm still at the forefront and play an active role in development, but how many more years can I keep that up, and how many more things can I handle making? I've been thinking pretty hard about all of that.

I'm from around when NES games were still being made – somebody who's "been around making games forever." At the time I was a rookie, there wasn't really anybody in the industry much older than 30. Everybody was young, looking back on it.

There are people even older than I am that still sufficient and active roles as directors, but that's only a small portion. Plenty went on to fill managerial positions, but there are also a lot of people that fell out of the scene. I'm a bit worried about what's to come.

That being said, there are things that I've yet to face – when I'm busy I feel like it's better for me to look forward without thinking back on things too much. At the very least, Smash Bros. – among other things – is well loved.

Actually, this column is entering its 17th year of publication. The times and what I'm doing have certainly changed, but what I talk about not so much. I think it's within reason to expect a certain degree of demand for the column to be an aggregate of game development techniques. That being said, summarizing everything from over the years might be a bit difficult.

I'm going to switch gears a bit – Piranha Plant, the early purchase bonus fighter, has finally been released! Sorry to have kept you all waiting!

In the development sense, I had the impression that the character was finished a bit early; but I also had to take the time to make adjustments with regard to balancing and debugging.

Piranha Plant has a lot of skills that are unique to it, particularly its specials: spitting up an iron ball, using its leaves to fly, creating a damage zone by spitting out a poisonous fog, stretching out its neck to unleash a devastating bite… These are all skills that'd simply be impossible for more human characters. I think it'll take a little ingenuity to learn how to really use it well. I feel like it's hard to know the true value of fighters like Piranha Plant, so please keep him in mind in the long-run. At the moment I'm working on new Classic Mode routes and scripted events that I think you'll enjoy!
Note: Outside of the column, it's mentioned that there won't be Palutena's Guidance for DLC characters from the Fighters Pass.
---
Translation by provided by Nico Thaxton on behalf of Nintendo Everything
If you use any of this translation, please be sure to source Nintendo Everything. Do not copy its full contents.
Leave a Reply