Sakurai shares development details on Kirby Super Star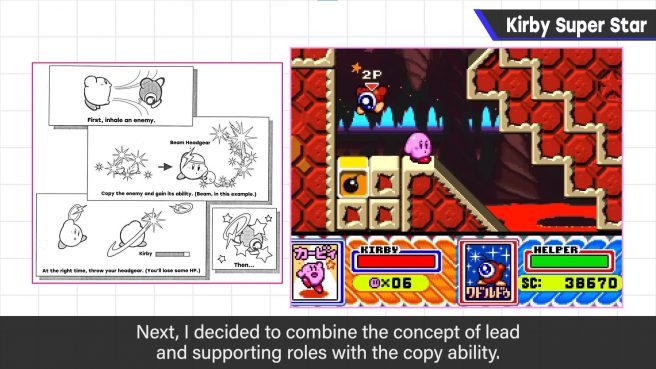 Following his previous videos detailing development on Kirby's Dream Land and Kirby's Adventure, Masahiro Sakurai has released a new video on his channel providing a closer look at Kirby Super Star's development.
Sakurai mentions that the game was created with two core ideas in mind; two-player simultaneous play, and an "omnibus" collection format. The first of these was actually something requested by Shigeru Miyamoto, who had apparently been wanting to implement two-player simultaneous multiplayer into the Super Mario Bros. series, but couldn't find a way to make it work with the fast-paced nature of those games.
"Kirby moves slower than Mario, though, so you should be able to figure it out, right?" Sakurai recalls Miyamoto telling him. This made for a tall order, as while Kirby was indeed slower than Mario, the introduction of copy abilities in the previous Kirby game made Kirby's speed vary wildly, which would cause camera issues when dealing with two players. It's at this time that Sakurai came up with the Helper system, where the camera follows the lead character (Kirby) while the supporting character is warped around to stay within this field of view. This Helper concept is what led to several other design decisions being made, such as Helper characters using copy abilities, taking the forms of enemies, and Kirby wearing different hats when acquiring abilities.
The second core concept, the "omnibus" format wherein the game is made up of several smaller stories, was devised because of the increasing length of games at the time. "I did it because I thought we were seeing too many games that took too long to beat," Sakurai says. "At the time, more and more massive games kept hitting the market. And they all took a long time to finish. By creating an 'omnibus' collection collection of quick-to-beat individual scenarios, each complete with their own unique gameplay, I thought I could provide a lot of content without causing players to grow tired of any one style."
There's even more information and tidbits mentioned about the game in Sakurai's full video on Kirby Super Star, which you can watch below.
Kirby Super Star was originally released in 1996. It's currently available to play on Switch through the SNES Nintendo Switch Online app.
Leave a Reply