Sakurai's full comments on the coronavirus and how it may impact Smash Bros. Ultimate DLC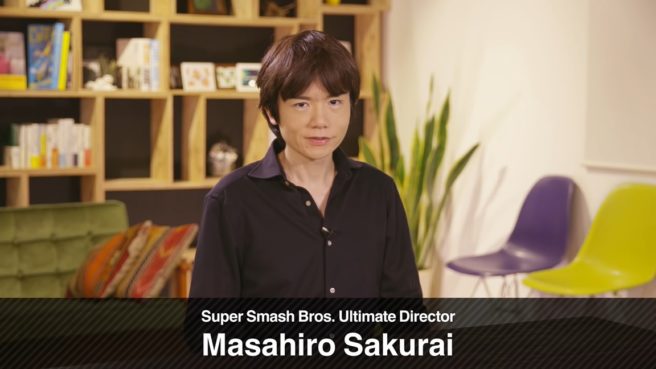 In Masahiro Sakurai's most recent column in Famitsu, the Super Smash Bros. Ultimate director touched on the topic of COVID-19 (coronavirus) affecting the games industry. Sakurai stressed the difficulty the industry is facing when it comes to development specifically, because the nature of the job is handling very confidential material which can't be taken home. He also expressed his concerns for workers with young children to look after (considering schools have been closed), as he says those people might be forced to take off work.
Of particular note to gamers, Sakurai vaguely detailed how COVID-19 has affected development on Super Smash Bros. Ultimate's DLC fighters. Apparently, some plans for a certain fighter have been put on hold for the time being.
You can read our full translation of the excerpts below.
Restrictions are also being put on business travel. It's particularly difficult to meet with partners who are faraway. For example, Nintendo is headquartered in Kyoto, right? In this regard, it's quite difficult for us to visit other companies. In my case, specifically, I was scheduled to give a presentation to a publisher on our plans for a certain new fighter; however the key parties were not able to get together, so it's been postponed indefinitely. That's not something I could fix even if I could be in the office the whole time.

And if we were to find out someone in the office has the virus, I presume all of our buildings would be shut down. If that happens, development would have to be halted entirely. There's a high probability of development not proceeding as scheduled, even if a new fighter were tentatively announced.
Sakurai also commented on the topic of general society being affected by COVID-19, and how people self-quarantining might affect the consumer-side of the games industry:
Considering everyone's being urged to stay at home… Well, this is a pretty light-hearted thought, but video games might see a bump in sales. However, the epidemic that is COVID-19 is casting a shadow on the production of those video games. We might hear announcements regarding postponed release dates or halted development on various games, but that's unavoidable. There's no way that things can proceed according to schedule when the man-hours are reduced.
As Sakurai says, "It's unavoidable." We hope that all development staff and their families take the necessary cautionary steps to stay healthy during the pandemic.
Leave a Reply