September 2023 Nintendo Direct live stream, live blog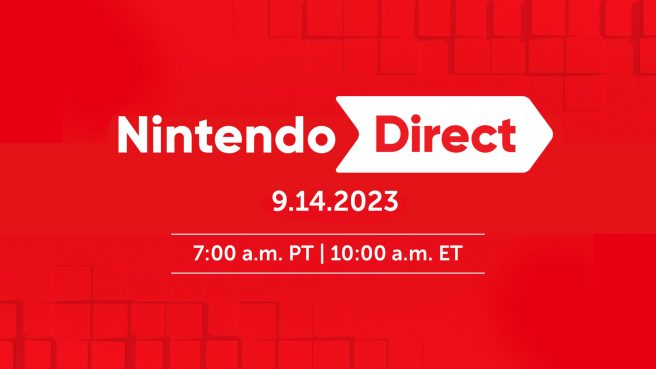 The annual September 2023 Nintendo Direct is almost ready to go, and we've set up this post to round up the official live stream – as well as our own live blog updated throughout the presentation. As usual this post contains broadcasts for North America, Europe, and Japan. Expect the Direct to begin at 7 AM PT / 10 AM ET / 3 PM in the UK / 4 PM in Europe.
As previously announced, today's event will focus on games launching this winter. It will last for about 40 minutes.
We have the official September 2023 Nintendo Direct live stream below along with our blog. We'll have coverage on the main site as well during and after the show.
Live Streams
North America
Europe
Japan
Live Blog
The first thing up on today's Direct is Splatoon 3's newest content. A new wave of the Expansion Pass will be available called "Side Order." Available Spring 2024.
Mario Vs. Donkey Kong announced. Each stage will need to have puzzles solved to grab keys and move forward to help Mario recover missing mini Mario toys. Available 2/16/2024
The Prince of Persia: The Lost Crown – Sidescrolling action platformer. Available 1/18/2024 Preorder bonus outfit available.
Horizon Chase 2 Available later today. Four player couch co-op
Up to four friends can play together local or online. Available in November.
SPYxANYA: Operation Memories available next year. Help Anya explore and create a photo book.
Super Mario RPG is shown. Gameplay is shown about timing attacks perfectly for extra damage on surrounding enemies. Available 11/17/2023
Another Code: Recollection announced as a follow up to Trace Memory. Includes previously unreleased content, and will be available next year.
New footage and details shown for Princess Peach: Showtime. Peach will be trying to save a play's performance and will be accompanied by a new companion, Stella. Using Stella's powers will allow Peach to use different outfits and abilities to save the play's performers and move forward.
SaGa Emerald Beyond announced. The game will feature six heroes and several connected worlds. Choices made will unlock different paths. The game is turn-based and turn order is crucial to victory. Available 2024
Tomb Raider I-III Remastered announced. The original trilogy will have all content and players can switch between original and updated graphics. Release date of 2/14/2024
Detective Pikachu Returns shown. Other Pokemon will be utilized to help the player on their investigations and solve mysteries. Available 10/6/2023
Trombone Champ announced for Switch. Motion controls will be featured, including the IR sensor on the Joy-con. Nearly 50 songs included. Up to four players can play together later today.
Battle Crush is an online multiplayer battle royale that will be free to play. Available next year.
Timed exclusive available later today, Wartales.
Contra: Operation Galuga announced. Reimagining from Konami and Way Forward. Four player co-op. Available next year.
Tactical RPG with beautiful art and pixel map graphics. Unicorn Overlord. Available 3/8/2024
Luigi's Mansion 2 HD announced. Summer 2024
Nintendo Museum gallery announced. A wide variety of products over the company's history will be shown. Construction will be completed in March of 2024
Zelda and Ganondorf Amiibo 11/3. Noah and Mio 1/19 and new Amiibo for Sora is on the way next year as well.
F-Zero is shown as a 99 player battle royale. Using SNES style graphics and a modern UI, customizations will be available. The game is out for Switch Online subscribers later today and supports the SNES wireless controller.
Bandle Tales: A League of Legends Story shown. Pixel graphics. Gathering and crafting shown. Quests can be taken on and there are festivals the player can participate in. Available next year.
Song of Nunu: A League of Legends Story Available 11/1
WarioWare: Move It! tons of micro games with movement focus. Poses will be necessary for the player to copy and then complete an action for each micro game. Up to four players can take on challenges together in Party Mode. Available 11/3
Eiyuden Chronicle: Hundred Heroes shown. The player will have a home base where new facilities will open based on the heroes collected by the player. Launches 4/23/24
Eastward: Octopia is paid DLC for Eastward. This holiday season.
Wargroove 2 announced for Switch. Three campaigns and a new mouse faction, the Fahri. Local and online co-op. Players can make their own cutscenes and campaigns.
Dave the Diver announced. Players can explore the ocean and collect items to bring back to the sushi restaurant to serve patrons at night. 10/26/23 with a free demo later today.
Final wave of Mario Kart 8 DLC – New courses and characters, including Diddy Kong, Funky Kong, Pauline, and Peachette will be added to the character roster. Available this holiday season.
Among Us new map available this October as a free update.
Paper Mario: The Thousand-Year Door will be on Switch in 2024. The game will be an enhanced port.
Leave a Reply