Shantae and the Seven Sirens – Spectacular Superstar update trailer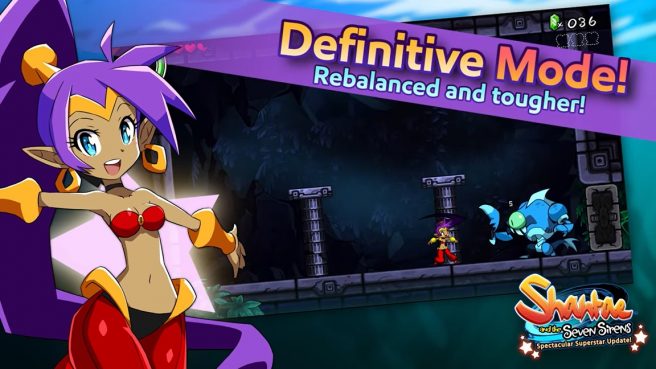 WayForward has readied a trailer to promote the new Spectacular Superstar update for Shantae and the Seven Sirens. New modes, extra story content, and optional convenience features are included.
As a reminder, here's a rundown of the different mode in the patch:
• Definitive Mode: A more challenging "director's cut" that features classic Shantae difficulty, with rebalanced item drops and magic consumption, as well as more-intense boss fights and new dialog with the Sirens before each battle.
• Full Deck Mode: Definitive Mode with a twist. Start with all 50 Monster Cards to customize Shantae's abilities to your liking.
• Rule Breaker Mode: Definitive Mode without limits. You can equip up to 50 Monster Cards at once to gain ultimate power.
• Beginner Mode: Definitive Mode made simple. This easy mode makes it impossible to lose! Perfect for newcomers or those who just want to explore the world and enjoy the story.
• Legacy Mode: Experience the game in its original, unaltered form.
Take a look at a trailer showing off the Spectacular Superstar update for Shantae and the Seven Sirens below.
All players on Switch can download the Shantae and the Seven Sirens Spectacular Superstar update starting today. Find the game's official site here.
Leave a Reply