Slime-san update out now (version 1.1) – new Blackbird's campaign and more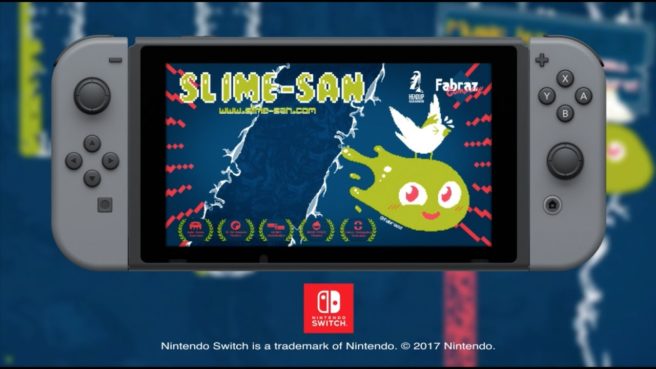 Slime-san's big update can now be downloaded on Switch. Version 1.1 is highlighted by the addition of the brand new Blackbird's content campaign, free of charge. It adds new levels, a boss fight, new target more challenges, and more.
Other new features have also been added as part of Slime-san's latest update. The full patch notes, plus a trailer for the Blackbird's campaign, can be found below. If you haven't purchased Slime-san yet, you can partake in a 30% discount on the eShop.
NEW FEATURES:
– Leaderboards: Compete online for the best level & speedrun times!
– Button Mapping: Remap all of your controls to your liking!
– HUE Slider: Entirely change the color palette of the game!
– Reduce Eye Strain: An option in case the game was too harsh for you!
– Krazy Karting Minigame: Item based, karting madness for 2 players!
– Gloomy Minigame: A scary, intense FPS arena survival game!
– Easy Tutorial: Accessible at any time for a gameplay refresher!

NEW CONTENT – BLACKBIRD'S CONTENT CAMPAIGN:
– A totally independent campaign from Slime-san! Are you ready for an aquatic adventure?
– 25 normal and 25 NG+ levels within a giant kraken!
– A brand new boss fight, can you beat the Kraken?!
– 10 new target mode challenges that will test your skills!
– A customizable house that you can style and furnish to your heart's content!
– 100 Bananas to collect and spend on furniture and house themes!
– Exciting new mechanics like the submarine mode, acid bubbles and suction cups!
– A independent speedrunning mode to compete with in leaderboards!
– An entire tropical Island you can explore and discover with tons of new characters!
– Loads of new cutscenes and story elements to experience and enjoy!
– New secret characters and set-pieces to discover across your journey!
– New music by Mischa Perella!
– More neat secrets!

ADJUSTMENTS:
– Loading Times: Have been shortened!
– Start-up Times: Have been shortened as well!
– Scrolling Level Performance: Has been significantly improved!
– Various minor bug fixes. (edited)
Leave a Reply