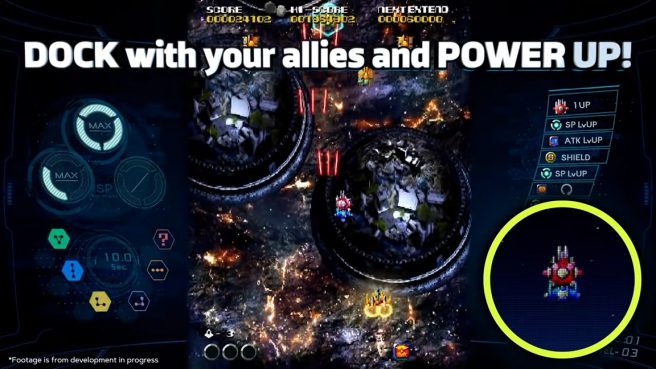 Today, PlatinumGames shared the very first gameplay of its shoot 'em up Sol Cresta during its SuperSummer Festival live stream. While trailers have been published previously, this is our first proper look at the project in action.
The full recording for the PlatinumGames is now available. You can see the gameplay for Sol Cresta starting at the 1:22:01 mark below showing off the first level.
PlatinumGames' Hideki Kamiya of Bayonetta and The Wonderful 101 fame showed off the Sol Cresta gameplay. As noted during the stream, this is just one of the levels players will go through. More information is expected during the Japanese event BitSummit next week. Platinum's panel will be held on September 2 at 11:45 Japan time.
Sol Cresta started out as what many believed was an April Fools' Day joke in 2020. PlatinumGames then made a proper announcement – again on April Fools' Day – this past year, officially confirming the news. It will launch on Switch later in 2021.
Sol Cresta wasn't the only game featured during the SuperSummer Festival live stream. PlatinumGames also properly unveiled new DLC for The Wonderful 101 starring The Prince Vorkken. We have more information about that here. World of Demons appeared as well, though that's still only available for Apple Arcade at this time.
Leave a Reply