Soldam: Declaration of Blooming announced for Switch, planned as eShop launch title in Japan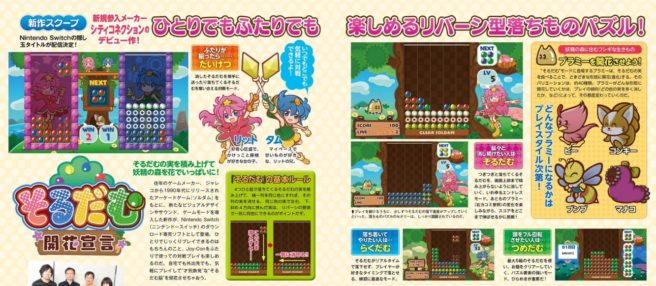 Way back in the day, Jaleco created the puzzle game "Soldam" for arcades and the Game Boy. Now on Switch, it seems that it's being revitalized.
This week's issue of Famitsu shares first details about Soldam: Declaration of Blooming. It's coming from nCity Connection.
Soldam: Declaration of Blooming features a new visual design, sounds, and game modes. The core gameplay is the same though, which has players lining up blocks called soldams to remove them. It's similar to Tetris in some ways.
Three modes will be available:
– Soldam: the orthodox endless mode where soldams fall normally, and the game is over if they reach the upper limit
– Rakudam: In this mode, soldams don't drop by themselves so the player can drop them at their own pace, which makes it perfect for training
– Tsumedam: puzzle mode where player clears challenge puzzles with up to five soldam groups provided
Soldam mode will have Plamy, which can bloom (evolve) to various shapes by eating soldam fruits. There are about forty variations of Plamys. Which evolution the Plamy goes to will depend on playstyles such as the color of soldams that get removed more, etc.
Soldam: Declaration of Blooming is planned to launch for Switch as a digital download in Japan on March 3. Strangely though, the game is listed at 85 percent complete. It will cost 1,500 upon release.
Leave a Reply