Sonic Forces devs on the custom character and story plus more, brief Sonic Mania talk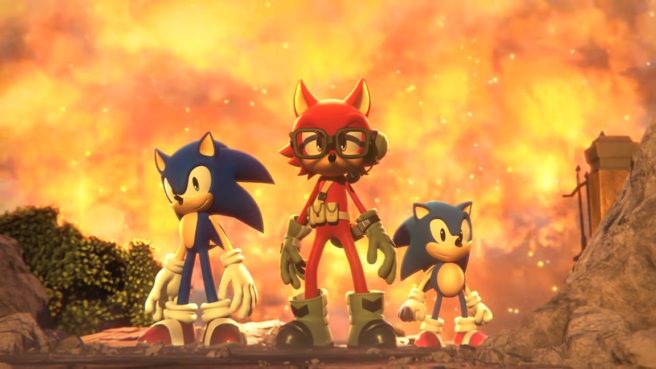 Recently, Famitsu spoke with Sonic series producer Takashi Iizuka and Sonic Forces producer Shun Nakamura. The two had much to say about the brand new custom character aspect and more.
First, Famitsu asked about the details on why character customization was added in Sonic Forces. Iizuka said that for many years in which he had been working on Sonic games, he received a ton of requests from fans to have their own original characters appear. While he has never been able to put in those characters exactly as they are, he still wanted to make those dreams come true, so SEGA decided to add a custom character that will fight together with Sonic.
Famitsu went to Nakamura for an explanation as to how the custom character was implemented. The avatar was created with the idea of "making straight high-speed action". While Nakamura noted that the Modern Sonic series has had many playable characters, he wanted to go with the theme of playing side-by-side with the Blue Blur. In past games, each playable character would have their own vector in the action. But this time the concept is that all three styles (Modern, Classic, Avatar) would be high-speed based.
Recent demos have featured the custom character that is randomly generated. But in the full game, there will be multiple aspects to mess around with. Players will be able to make selections for the face, mouth, body color, and gender. Each species will also have their own unique skills, such as wolves being able to pull nearby rings.
When asked if it's possible to have multiple avatars, Iizuka said that since it's supposed to be the player's own personification, you can't change characters in the middle of the game. However, there is some sort of feature that's unlocked after you've cleared the game once.
Later in the in the interview, it's mentioned that Classic Sonic had a 2D viewpoint, and Modern Sonic had a viewpoint of going deep. Meanwhile, the new avatar style will have a speedy and rhythmic style like Modern Sonic, but also different vectors from Sonic, such as differences in timing for pressing buttons, or the Wisps giving the avatar trickier movements.
For the story, Nakamura wanted to depict heroes that would feel like Sonic. He hopes that by controlling different characters, he can show a story that extends to explaining the world setting as well. The story concept has been "Hero Army vs. Eggman's Army" from the start. When wondering who should be made playable among the heroes, he came up with Classic Sonic.
In the end, the character setting for the avatar is a civilian in an area occupied by Eggman who stands up and fights together with Sonic.
In stages you will get to hear radio contact from partners like Tails and Amy. Sonic and the rest of the gang form a resistance to stand against Eggman's army, so they relay information from headquarters. They will explain the "war situation" in other areas.
Past boss characters like Chaos and Metal Sonic will appear in Eggman's army. There's also a new character (Infinite) whose details are being kept secret by Nakamura, except for the fact that the character is going to lead Eggman's army.
The main part of the storyline is that Eggman gathers strong enemies in the past to form an all mighty army to fight the hero army. Iizuka wanted to show that by giving a sneak peek of a mysterious strong enemy.
Nakamura said they did so because if they just show Eggman saying "I have conquered most of the world," it wouldn't seem convincing enough. Some people might be wondering why Shadow is on the enemy's side, but they can find out more by experiencing the story.
Announcements and trailers have been released earlier in the west, but they have noticed a steadily increasing number of views as they release new trailers, starting from the first teaser trailer in last year's June, then the trailer in March, and the Nintendo Direct in April. Iizuka thinks Japanese fans also like the fact that this game has a serious story, and that they can make their own character with the customization aspect.
When asked if they had any hardships with the new game engine Hedgehog Engine 2, Nakamura said that they did have various things to deal with during the early phases. However, they were able to solve them one by one, so he now thinks development is progressing very quickly. Another big problem they had was having to support a new console when the Switch version was announced in the middle of development. Having said that, they did predict, "It's going to come to Nintendo's new console" when they started the project.
Iizuka added that being able to also support Switch is an advantage of developing an internal engine. Other companies would have left support for new consoles to a third-party. SEGA had already predicted it would come to Nintendo's new console because Sonic fans had a history of playing the series' games on Nintendo platforms.
E3 2017 had the first playable demo for Sonic Forces, but Nakamura is also planning to show the game in Japan at Tokyo Game Show 2017 in September. They are also working on providing new information, including news that would be unique to Japan.
Aside from Sonic Forces, Famitsu also had a brief feature with Iizuka about Sonic Mania.
Iizuka noted at one point that development had been hectic. Sonic Mania was supposed to go gold earlier than Sonic Forces, but he thought the timing between the two might end up becoming about the same. They were so busy that they even hesitated on whether to build a demo build of Sonic Mania for E3.
However, production of content such as all stages and bosses are already complete. At the time of the interview, they were working on debugging and tuning, so it should have been done pretty soon at that point.
Sonic Mania will reproduce the pure good points and the easiness of playing a 2D game, and Iizuka thinks it is being well done. Fans, including Iizuka himself, can play it in a leisurely manner while getting surprised that new things get added to familiar stages. Sonic Mania should satisfy fans of the classic series.
Leave a Reply