Spiritfarer Collector's Edition revealed, "Beverly Update" out today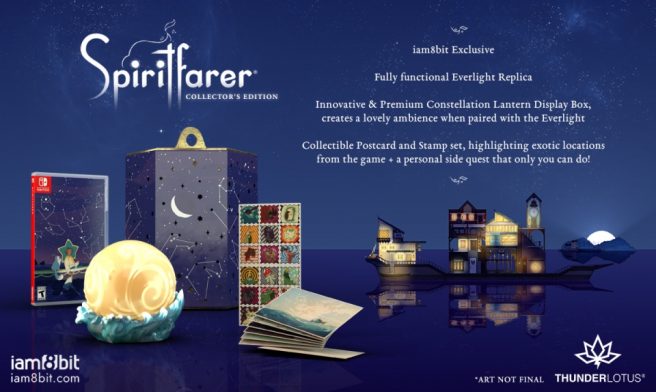 In celebration of Spiritfarer's first anniversary, Thunder Lotus and iam8bit are teaming up to produce a special collector's edition. It can be pre-ordered today exclusively through the iam8bit store for $199.99.
All copies include:
– Fully functional Everlight Replica
– Innovative and premium Constellation Lantern Display Box (creates a lovely ambience when paired with the Everlight)
– Collectible Postcard and Stamp set, highlighting exotic locations from the game + a personal side quest that only you can do!
– Digital Download Card for the Spiritfarer soundtrack by composer Max LL
– Digital Download Card for 96-page Spiritfarer art book
– Physical edition of Spiritfarer featuring exclusive, reversible cover art by acclaimed illustrator Aidan Yetman-Michaelson
– All digital content updates for the game
You can pre-order the Spiritfarer Collector's Edition here. The store is also offering pre-orders for a 2xLP vinyl soundtrack composed by Max LL which features album art by Erin Vest and includes a digital download version of the game's soundtrack.
That's not all for Spiritfarer, as the second of three free updates known as the "Beverly Update" is going live on Switch today. It introduces a new passenger and storyline with Beverly, the tiny owl spirit. The patch also has new buildings for Stella's boat, new collectible items, and a various Quality of Life improvements inspired by suggestions from the community.
Here's a trailer showing off the update:
Source: iam8bit PR
Leave a Reply