Splatoon 2 producer talks a ton about weapons, mobile app usage, graphics, HD Rumble, more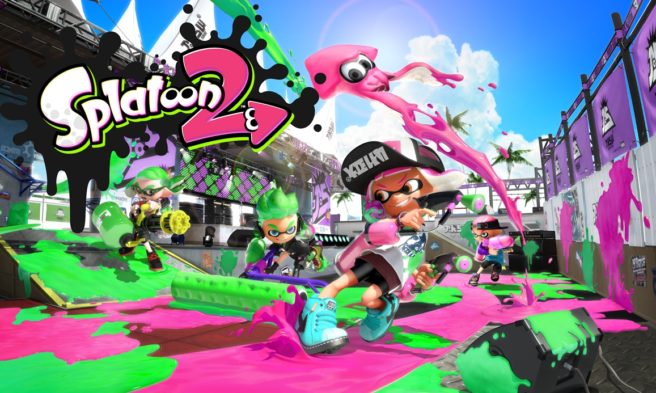 Can you only jump by bringing the map up?
That's right, only from the map.
Then, I think people will be able to jump faster once they get used to not having to check the GamePad.
However, it's difficult to see around yourself while you have the map up, so you're leaving yourself open to attack. Just like in the first game, you can still move around and use your weapons while it's up.
By the way, can you explain how the gyro-controlled pointer on the map works?
You can activate the Super Jump with a combination of the direction buttons and the A button, but you can also activate it by pointing towards your teammate with the gyro controls and pressing A.
What was the reason you changed jump from X to B?
On the Wii U GamePad, the right joystick was above the buttons, but on the Switch, it's been moved below them. So we changed it to the button closest to the right stick, the B button. It might be confusing at first, but it's in a more convenient spot, so I think everyone will get used to it quickly.
[…]
This time, you can pick the game up and play on the go.
That's right. You can even play multiplayer locally. The easiest way to think of it, is like if everyone was in the same room, playing a private match from the last game. I've heard that people brought a bunch of TVs together play with each other on the Wii U, but not everyone can do that… Now, people will be able to play together more easily.
Will there be any modes besides just private matches for the local multiplayer?
Those will be announced at another time.
The smartphone app allows players to engage in things like voice chat, using the online service. Will Splatoon 2 be making use of this app too? And if it does, could you tell us a bit about how it works?
Of course it supports it. The application and game work together: you can and your friends can use the app to create rooms and gather together to play, which then matches you up in the game. You can invite friends to rooms using just the app, or you can invite people not on your friend list using social network sites. You can even create rooms in advance. For example, during the afternoon, you can set up a room to invite friends to a match that same evening. Then, once enough people join, you can start the game. So you can use it to set up these "meetups". You can also use the application to engage in voice chat with other players in the room during gameplay. This feature also works together with the game. For example, in Splatoon 2, you can chat with everyone in the room before the private match starts, but once the teams are decided, it automatically limits the chat to only be with your own team. The voice chat only functions between people in the same room, so you can't talk to strangers.
I see. Only the most basic parts of the game were announced here.
What we revealed today was a bit more than what we did for the first game at E3 2014. Since the online battles are still the biggest draw of the series, we only showed a small part of the changes in store, not the full picture. I mentioned that Hero Mode would be included, but the other features we're bringing to the game will be announced when the time is right. They're still being researched, after all…
I can't wait! Since the Nintendo Switch features HD Rumble, will this game be using it?
It will indeed make use of HD Rumble. Since it's capable of very expressive feelings, we're putting a lot of effort in to get the best tactile sensations possible.
I think it would be cool if it shook whenever you scored a good hit with a Charger.
Yeah, exactly. (Laughs) If the vibrations connected you to the moments where you splatted an enemy, or did something awesome, then you'd be more immersed in those moments. That's the kind of use I'd like to include.
And the graphics have gotten better too, thanks to the Nintendo Switch's hardware.
We're working on improving the graphics, but our number one priority is having it run at 60 FPS. I think we definitely need to keep the responsiveness from the first game, so that takes priority during graphics adjustments.
Aside from that, have there been any changes made that you had wanted to make in the previous game?
Of course, there are lots of things that we'll be adjusting, including the smaller details. For example, even though the weapons are mostly based on what we had in the first game, we're adjusting them so that everyone can keep enjoying their favorite weapons while still making sure their strengths are present. We've also improved and expanded upon the underlying systems.
Is development proceeding smoothly?
Of course. We're doing our best to release in summer of 2017.
[…]
Will we get any other chances to try the game out?
I'd like for as many people as possible to have the opportunity to try the game out, but I don't know if it will be at an event like this or not.
For the last game, you were able to do the "Global Testfire" (note: Splatoon 2 Global Testfire announced today) because the hardware had been available for several years already. But this time, you'll be launching on brand new hardware.
I believe there are people who are considering purchasing the game along with the console. I'd like to reach everyone who is looking forward to Splatoon in some manner.
I think fans are also concerned about what's going to happen to the online service for the first game.
They can rest easy about that, the service will continue. Forever… might be impossible, but it won't go down after the Switch launches, so everyone will still be able to enjoy the game.
[…] and finally, if you could please give a message to Splatoon fans around the world.
There's still a bit of time before it releases, but I hope everyone will look forward to being able to play soon. Both long-time fans and people who are new to the series can enjoy a fresh new Splatoon experience. There are still plenty more mysteries we've yet to unravel. We'll be shedding light on more of them little by little from now on, so stay tuned to the Squid Research Lab Reports. Thank you for your support.
And thank you very much!
---
Massive thanks to Gessenkou and iYakku for their help with this translation!
---
Thanks for making it to the end of this post! If you use any of this translation, please be sure to properly source Nintendo Everything. Do not copy its full contents.
Leave a Reply