Splatoon devs on Inkling girl design focus, Squid Sisters, and more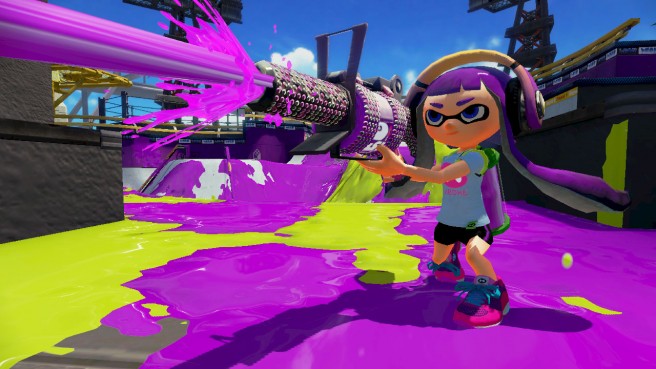 The latest issue of Famitsu has a massive Splatoon interview. Producer Hisashi Nogami, art director Seita Inoue, designer Keisuke Nishimori, sound director Toru Minegishi, and sound composer Yuki Tsuji spoke with the magazine. That's a lot of developers indeed!
During one point of the discussion, Inoue and Nishimori spoke about how the Inkling design centered around the girl at first.
They said:
"The main emphasis was on the girl, to the extent that we thought at first whether it would be alright to not have a boy (laughs)." – Inoue

"When having a chance to design a new character, there is the fact that it's rare to have a girl lead in a Nintendo title and also having a strong and active female may make it easier to become accepted overseas. The design was centered on the girl at first, and then the design of a boy was thought of in comparison." – Nishimori
Next, Inoue and Nogami commented on the Squid Sisters. Inoue first pointed out that their function is to act as Splatfest announcers, and they make the polarity easier to understand. The latter point pertains to how there are two options in every Splatfest, and each is represented by one Squid Sister.
Nogami also said:
"The staff was very particular on the dialogue, like 'Marie doesn't say a thing like that', so some adjustments were made. Originally, before they were idols, they were called 'shrine maidens' and their role was to transmit divine messages from god to people."
Next, Tsuji confirmed that sound effects were created from scratch:
"Yes. I thought there was no other choice to have sounds of a liquid with such high viscosity than creating them myself. So I went shopping alone during work hours (laughs). I focused on buying things with high viscosity, like borax (an ingredient in making toy slime), starch, solidified jelly and wood glue. Later the person responsible for accounting was calculating these costs and inquired like 'What's this?' I had the difficulty of explaining, 'I use them in creating sounds of ink!' (strained laugh)"
To close things out, Minegishi left this interesting message for fans:
"By the way, a punk rock band Squid Squad is currently popular in the world of squids, but perhaps the trend will shift a bit in the future, and a different band may appear. Please look forward to it."
… But that's not all. We also picked out a noteworthy excerpt about the final boss. It's nothing absolutely major, but if you haven't completed single-player yet, you may want to simply close the page at this point!
SPOILERS BELOW
We'll end things with some comments from Minegishi about DJ Octavio:
"It happened in this order: first the name Takowasa [Octavio in the Japanese version, tako means octopus] was decided, then he changed from a wasabi maker to a DJ, and then scratching music was put in (laughs). This background music starts with a rhythm 'don don don don' and it was decided to match the rhythm perfectly with the making of wasabi."
Leave a Reply