[Interview] SpongeBob SquarePants: Battle for Bikini Bottom – Rehydrated dev on restoring cut content, multiplayer, speedrunning, and more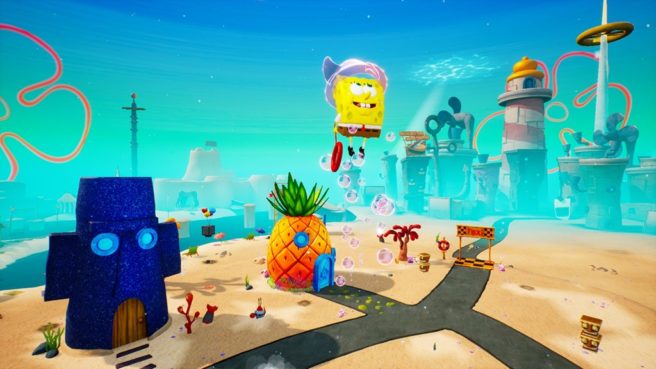 SpongeBob SquarePants: Battle for Bikini Bottom has gone on to become a fan favorite since its original debut on GameCube back in 2003. Now THQ Nordic and Purple Lamp have brought the game back with a new "Rehydrated" release on Switch, which gives the 3D platformer a fresh coat of paint and more.
Ahead of tomorrow's release, Nintendo Everything spoke with THQ Nordic producer Martin Kreuch. We spoke about restoring cut content from the original, the new multiplayer mode, working with the speedrunning community, and more.
Here's our full discussion:
How did the remake first come to be, and how/when did Purple Lamp become involved with the project?

THQ Nordic acquired the game assets for the original SpongeBob SquarePants: Battle for Bikini Bottom from THQ several years back and entered a new licensing agreement with Nickelodeon not long after. We chose Purple Lamp because of the team's extensive experience in action and puzzle games and passion for SpongeBob.

Knowing that SpongeBob: Battle for Bikini Bottom has a dedicated fanbase, how did the team go about remaking the game while also staying true to the original?

Purple Lamp was inspired by the philosophies of Stephen Hillenburg, the creator of SpongeBob. They were also fans of the original game. The team wanted to give fans everything they know and love about the original SpongeBob game with even more content so the game felt fresh, such as a new multiplayer mode.

While Rehydrated respects the original Battle for Bikini Bottom, what sort of changes were implemented to update the game for the modern era?

Fans will immediately take notice of the graphical improvements enabled by the current generation of hardware systems. In addition, we've made many quality of life improvements that deliver a more polished gameplay experience. This in addition to the new multi-player mode in which you battle Robo-Squidward.

What was the process like of restoring the cut content?

We had a look at all available materials from the original team and ultimately decided to merge all cut content into the multiplayer mode. This includes Robo-Squidward and the ice cream level that would have been Patrick's Dream in the original game. We wanted to keep the single player experience close to the original game. What we did change in the campaign, is that you can now play the SpongeBall Arena, a skate park that was only present as a credits video in the original.

What led to the creation of the new multiplayer mode?

We know how much fans love the show and the original game. In some cases, it's a twenty-year connection that friends, families, and players share with one another. Because of this, we wanted the connection to be acknowledged in the game so that people can play together and celebrate their love for SpongeBob. In multiplayer mode, two-players can team up in either local couch or online co-op mode to battle robots from the main game across more than twenty islands. Rehydrated's multiplayer mode also features four, additional playable characters: Mr. Krabs, Gary, Squidward and Robo-Plankton, each with their own sets of moves and attacks, straight from the TV series and upcoming movie!

Does Rehydraded carry over cheat codes from the original, and if so, were any new ones added? Will there still be a theater/art gallery viewer?

We did not carry over any cheats from the original and have not implemented new ones. The Cinema from the original is of course present again in the game.

Why was it decided to bring over the voice work from the original as opposed to recording new lines?

The voice work from the original was spectacular. That feedback was universal from fans. We wanted fans to recall the game that they know and love to keep the nostalgia alive. This is an example of Purple Lamp's approach to development. They embraced all the wonderful little details that were part of the original game, while at the same time adding little nods to the seasons that were aired after its release. We did however record brand new voice versions in German, Italian, French, Spanish, Polish and Japanese.

Will the game still have tricks and "glitches" that have become popular within the speedrunning community?

As it is a full remake – as opposed to a remaster, which uses original code – we did not recreate the glitches of the original, as it would have basically meant to turn them into real features. We were in close contact with the speedrunning community however and have gained a lot of valuable input from this close relationship. And of course we're already curious to see which exploits the community will find in Rehydrated 🙂

How was it developing the game for Switch? Can you share information about performance in terms of frame rate and resolution?

It was a great experience. Given the huge audience of young SpongeBob fans, we think the game is going to be extremely popular on Switch with a framerate and fidelity that will be satisfying for players.

What does the future of SpongeBob games look like? Are more remakes possible? Is an entirely new game something that could be realistic down the road?

Well, as fans ourselves, we're looking forward to Viacom's upcoming SpongeBob theatrical release later this summer. Nothing to commit to in terms of future games.

What else would you like to share about SpongeBob Squarepants: Battle for Bikini Bottom – Rehydrated with the Nintendo community or fans of the game in general?

We honestly just can't wait for fans to play. They have waited far too long for another SpongeBob game. As I mentioned before, we're talking about a character and world that has captivated audiences for twenty years – that's multiple generations of SpongeBob fans! We can't wait to see the responses from parents and their children playing together.
Leave a Reply