Star Wars: Hunters delayed to 2022, cinematic trailer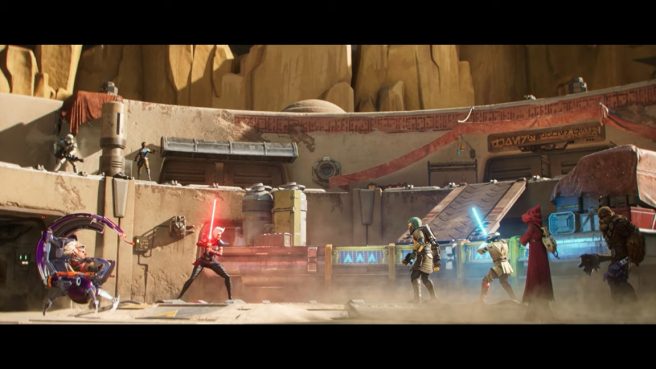 Star Wars: Hunters has been delayed and will no longer be releasing this year as originally planned. It will now launch sometime in 2022.
Zynga and Lucasfilm Games provided an update today with the latest details, and also debuted a new cinematic trailer.
Here's the full rundown:
Welcome to The Arena, where the stakes are high, and the excitement is even higher. Watch as Hunters go head-to-head in an all-out, adrenaline-fueled battle. Which team will emerge victorious?

Join the greatest Hunters from the Star Wars galaxy in grand arenas inspired by iconic Star Wars locales. Use skill and tactics, mix and match teams to find winning strategies, customize your Hunters, and engage in thrilling third-person cross-play battles.

Join the greatest Hunters from the Star Wars galaxy on the planet of Vespaara where Hunters from across the galaxy compete in The Arena. Engage in thrilling third person combat to dominate grand arenas set in a range of maps that evoke iconic Star Wars worlds. Mix and match teams, use skill, tactics and customize your character to find a winning strategy and reap the spoils of victory in this all-new free-to-play game.
In addition to the news regarding the game being delayed and the cinematic trailer, the official website for Star Wars: Hunters is now open here. Fans can pre-register and help reach new milestones to unlock exclusive in-game content. We're seeing different rewards for 250,000, 500,000, 750,000, and 1,000,000 registrations.
Star Wars: Hunters recently suffered from a leak, and it was thought that the game could be arriving soon. That ultimately didn't turn out to be the case, but here's hoping that the extra time will lead to a better experience.
Leave a Reply