Star Wars: Knights of the Old Republic gets physical release on Switch
Posted on November 15, 2021 by Sixto in News, Switch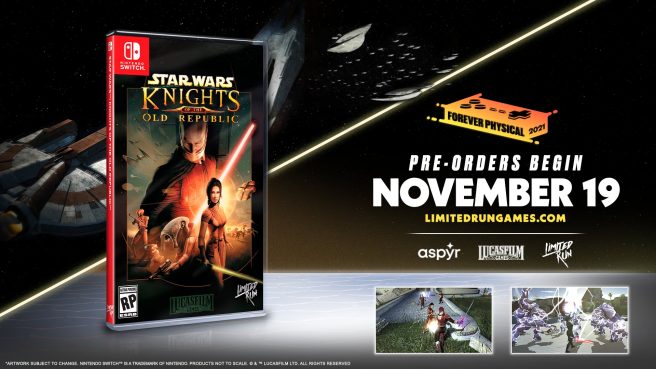 We all know that the all-time classic Star Wars game, Knights of the Old Republic, originally developed by BioWare, got rereleased onto Switch not that long ago as of the time of writing. As one might expect, new developer Aspyr didn't stop at the digital release. We're happy to report that they have teamed up with Limited Run Games and are bringing out a physical release.
Here's what the folks at LRG had to say about it on Twitter.
Choose Your Path.
Limited Run Games is giving Star Wars: Knights of the Old Republic a physical Switch release! Alongside our Switch Standard Edition, Premium & Master Editions will be available for both PC and Switch.
You read that right. In addition to the standard edition, Limited Run are also planning to pump out not one, but two collector's editions, both of which are pictured below. Some of the highlights are the light/dark side commemorative coin, the steelbook, the Darth Revan miniature hilt replicas, and the fully operational Security Spike USB drive.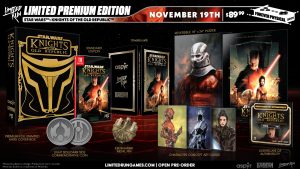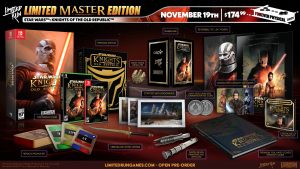 Here's more information about this rerelease, according to Nintendo.
The legendary RPG classic, now on Nintendo Switch™.
Four thousand years before the Galactic Empire, hundreds of Jedi Knights have fallen in battle against the ruthless Sith and you are the last hope of the Jedi Order. Can you master the awesome power of the Force and save the Republic? Or will you fall to the lure of the dark side?

— A Star Wars epic set in the untouched era before the rise of the Empire, filled with unique characters, creatures, vehicles and planets.

— A deep RPG experience with customizable characters and meaningful choices that impact the story, your squad, and even yourself.

— Harness the power of the Force with over 40 different abilities and wield your own lightsaber.

— Adventure through eight enormous and iconic Star Wars worlds, including Tatooine and Kashyyyk, in your own starship, the Ebon Hawk.

— Choose your party from and build everlasting bonds with nine unique crewmates, including Twi'leks, droids and Wookies.

Hero or villain, savior or conqueror… you alone will determine the fate of the entire galaxy!
Star Wars: Knights of the Old Republic is now available on the Nintendo Switch eShop. The 6-week pre-order period for Limited Run's physical releases opens on November 19th. You can pre-order the physical release here.
Leave a Reply