Stardew Valley creator – possible Switch physical version, looking into save times, future plans, more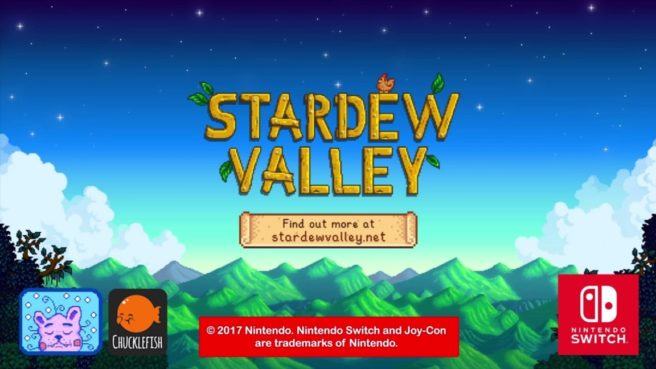 Stardew Valley creator ConcernedApe held a Reddit AMA yesterday. It was an opportunity for fans to ask all sorts of questions about the game, which just launched on Switch last week.
Some of the responses were pretty interesting. It sounds like a physical version might be possible on Switch, and the somewhat long save times are being looked too. Unfortunately, touchscreen support is unlikely. ConcernedApe also talked vaguely about future plans, including his next game.
Here's a roundup of the more interesting responses:
On new content or a sequel…
You can certainly expect more games from me, but I haven't made any plans yet as to whether there will be a Stardew Valley sequel or more content
On plans for new games…
I have plans for my next game, but I don't want to reveal anything for a while… creating hype too far in advance is a lot of pressure, and ultimately I don't think it benefits anyone. I prefer to work in an isolated bubble
On the Pam glitch when she disappears completely…
I think this is actually a bug that's been in Stardew Valley from the very beginning… and I've still never figured out why/how it happens
On a physical version of Stardew Valley for Switch…
No definite plans yet, but it's being considered
On adding touchscreen support on Switch…
I'm not sure… I think it's unlikely, but I'll ask Chucklefish/Sickhead if they think it's feasible at this point
More on what's next…
Yes, my next game will take place on the same planet as Stardew Valley, although it's not a sequel or expansion in any way
I don't want to reveal too much at this point, but I am thinking of approaching my next game with a similar mindset to Stardew Valley — take a style of game that was never fully realized (or that changed trajectories, leaving unexplored possibilities), and carry on the tradition in my own weird way
On plans to release other Switch games…
I would like to, but it all depends on timing and what happens in the next few years
On improving save times…
I've asked Chucklefish/Sickhead Games about this and we're going to do our best to improve it. However, it might ultimately not be possible. I take responsibility for that, since I coded the original save system, which worked fine on PC but was really not efficient or optimal. But now it's so deeply integrated into the game that it would be extremely difficult to rewrite it.
Leave a Reply