Steel Empire Chronicles getting a physical release on Switch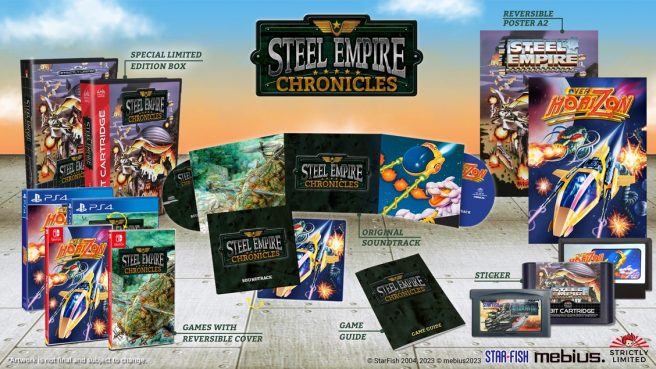 Strictly Limited Games, in partnership with Mebius and Starfish, today announced a physical release for Steel Empire Chronicles on Switch. This package features Steel Empire as well as Over Horizon.
The Limited Edition, priced at $39.99, will let fans choose between two cover variations, which feature the Steel Empire Chronicles title sheet or the classic Over Horizon title sheet. Only 3,000 individually numbered copies will be made on Switch.
Also planned is the Special Limited Edition, priced at $59.99. It comes with a unique collector's edition box in the shape of a Mega Drive case with several collectors items. One of the key items is the original soundtrack. Note that just 2,000 individually numbered copies will be made in total on Switch.
Here's some information about Steel Empire and Over Horizon:
Steel Empire

The Motorhead Empire reigns over most of the world with an iron fist, but there is still freedom to be found in the Republic of Silverhead. What follows is your typical (and very likeable) shoot 'em up narrative of the free world sending a sole pilot to save the day and bring peace and harmony to all.

The story itself is displayed through what is most easily described as an old sepia-toned film newsreel. The narrative is filled with made-up historical references that'll help to set the mood. Of course, just as you've come to expect of Strictly Limited Games, we'll add to this through the presentation of the physical releases.

About Over Horizon

Released in 1991 for the Famicom/NES, this shoot 'em up was created by the same developers as Steel Empire. Experience a hidden gem of gaming history that was originally only released in Japan and Germany and enjoy the atmospheric and colorful presentation!
Pre-orders for the physical versions of Steel Empire Chronicles for Switch start April 9, 2023 at 8 AM PDT / 11 AM EDT / 5 PM CEST. Copies should release this spring.
Leave a Reply