Super Bomberman R producer on revitalizing the series for Switch, anime interest, cut stages, much more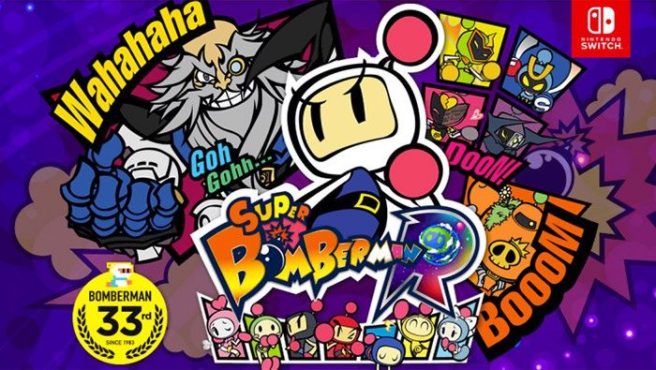 Both Nintendo Dream and Dengeki Nintendo recently published Super Bomberman R interviews. The two magazines spoke with Noriaki Okamura, producer of the game.
Nintendo Dream and Dengeki started out by asking why Bomberman was brought to Switch. Okamura began by stating that the platform is very compatible with the series. Specifically regarding Switch, he likes it because it has a straightforward composition and it's easy to make games for the system. Lately there are few consoles that come with two controllers by default, so Okamura felt that's a good thing as well. Being able to play anytime, anywhere, and with anyone in your home with family, outside with friends, or online with others is an important aspect.
In this game, Bomberman has a family of eight siblings because Konami intended to include eight-player versus from the start. One Switch comes with two controllers, so four consoles can be connected for eight players.
Having said that, even though they had to prepare eight characters, it would be bland if they just have different colors. So at first they thought of a Super Sentai (read: Power Rangers)-like setting, but they didn't want the characters to blatantly feel like being heroes. So ultimately, they made them to be more relaxed – hence the "weird heroes of justice who think they're protecting the peace in the universe" setting.
Since the Bomberman siblings are voiced by a stellar voice cast list in Japan, Okamura was asked about an anime adaptation. He leaves that to the fans to request it, while he himself would like to really see it as well.
The reason why they made the graphic in a photorealistic style is because they wanted to draw inspiration from the Super Bomberman games on the SNES. These were the Bomberman titles Okamura played the most, and they felt complete as versus games for him.
While Okamura didn't want to make odd content changes, if he really were to just make it as is, then it would just be for mere nostalgia. So rather than a straight port, he thought of adding "adjustments for memories" without changing the core gameplay, and for that the graphics were made in a photorealistic style. The maps becoming 3D and having eight characters are also for the same purpose.
The team produced the game with always keeping in mind aspects that must be / must not be changed, and they created Super Bomberman R with the number one thought of matching "the precious Bomberman" in everyone's hearts with the current era. As a result of making Super Bomberman in a modern style without drastically altering its features, Okamura thinks this entry has become a Bomberman game that can be played anytime and anywhere, using Switch's abilities.
There are thirteen items in this game. Most of the regular items from Super Bomberman were added, but the team removed the ones which were not compatible with the 3D maps.
When asked about changing the map style to 3D, Okamura answered that when they were reestablishing the Bomberman Project, they wanted to add one more feature to add into the core gameplay. By making the maps into 3D, they were able to create stages that have new ways to play unlike anything before. However, it wasn't warmly received by past Bomberman players, so they had to readjust it.
Even though the maps are presented in 3D, there is no jump button here. If you could jump, it would no longer be a Super Bomberman game. That is one of the elements that they knew couldn't be changed.
For the flow of story mode, the team first thought about how you would be playing it, then the characteristics of each planet / world, and finally the setting for each. The final boss mechs at the end of each world were basically also decided with the same flow, but for the one that looks like Gwinbee, someone in the production team had very fond memories of Twinbee, so Okamura who likes transformations said it would be fine if it can transform.
There are no direct connections to past Bomberman entries because there is a major change in the world setting. Having said that, the story is based on Super Bomberman 3 since there are Bagura and the Five Dastardly Bombers.
When asked whether there were any "mythical" stages that were removed, Okamura remembered some level structures at the start of development such as a complex level with numerous floors. There was another one where the whole structure would change when a bomb exploded. However, if they were to make so many of those stages, it wouldn't become any more interesting, so he thought such elaborate structures wouldn't be really good, and decided to stick with the current structures.
In an unrelated question, Bombergirl was announced for arcades a few months ago. When asked if Konami is really pushing Bomberman this year, Okamura answered that it's not really the case.
Okamura was asked why Bomberman has received support for such a long time. He believes it's because Bomberman is a highly complete game that can be enjoyed by friends and family regardless of a player's age or skill. There have been almost 100 Bomberman-related titles, so Okamura is very thankful that many people have enjoyed the various entries. Okamura hopes that Bomberman can continue not only for thirty years like now, but thirty years in the future.
The final message is advice for those who are going to play Bomberman the first time on Switch. Before you think about defeating rivals with bombs, you should play it while considering how to become the last man standing in the end. Okamura said with a laugh that perhaps this is the first obstacle players need to overcome.
Leave a Reply