Super Bomberman R update out now (version 2.1) – new characters including Solid / Naked Snake and more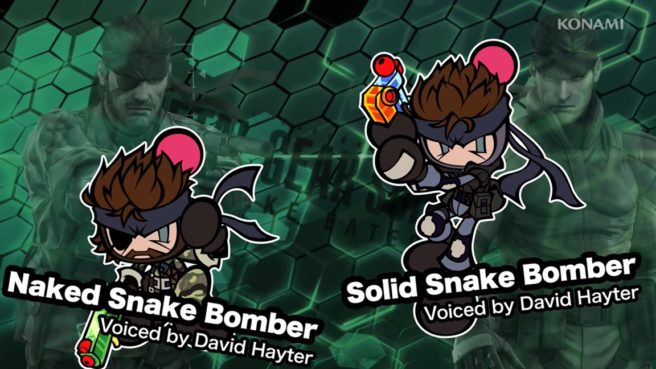 A major update has gone live for Super Bomberman R on Switch. Konami has added in several new characters, including Solid Snake and Naked Snake. Best of all? They're voiced by original actor David Hayter.
There are other elements to today's update as well. Grand Prix has a new "Checkpoints" rule, a trio of Metal Gear stages have been added for this option, and more.
The full patch notes are as follows:
The Grand Prix mode now has the new "Checkpoints" rule.

[Checkpoints]
Players scramble for areas known as "Checkpoints" in the stage.
Occupied checkpoints provide a certain amount of point every 10 seconds.
At the end of the round, additional points are given for the occupied checkpoints.

– 3 types of Metal Gear stages have been added for you to enjoy the Checkpoint rule.

– New characters are available in the shop.
– Solid Snake Bomber
– Naked Snake Bomber
– Raiden Bomber
– Bill Bomber
– Lance Bomber
– Vic Viper ZERO Bomber
– Ayako Katagiri Bomber
– Ebisumaru Bomber
– Xavier Woods Bomber
– Max

– New accessories have been added.

-The rules for accomplishing a perfect in Grand Prix have been changed.
– In Crystal, a perfect is accomplished when you possess all the crystals in the stage for 15 seconds.

– Various other small bugs have been fixed.
We have a trailer for the new update below.
Leave a Reply