Super Mario Maker 2 Direct live stream, live blog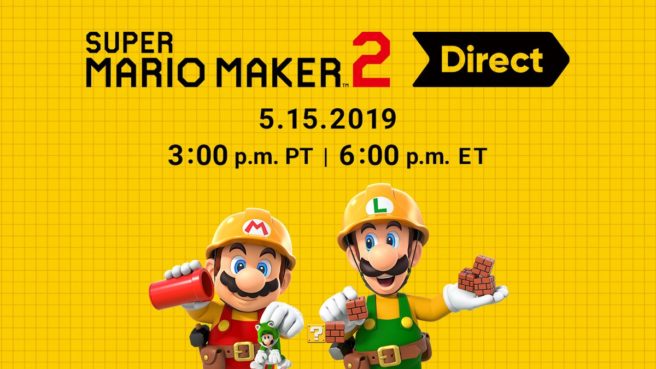 Today's Super Mario Maker 2 Direct will be kicking off not too long from now. Nintendo will have the presentation ready to go in one hour – 3 PM PT / 6 PM ET / 11 PM in the UK / 12 PM in Europe.
You can watch today's Nintendo Direct as it happens below. We'll also have a live blog going covering all of the important points. Anything that's particularly noteworthy will get its own dedicated post on the site, so expect coverage throughout the event as well as after it ends.
Super Mario Maker 2 Direct live stream
Live blog
Starting at 6 PM ET…
– Super Mario Maker 2 begins with a quick animation of Mario and Luigi putting up some blocks.
– Uploading and sharing courses are back just like the Wii U Version, where they were unfortunately omitted in the 3DS version.
– Various Mario styles return from Super Mario World, New Super Mario Bros. and more.
– Slopes can be utilized and angled in a variety of ways to increase or decrease slide velocity
– Seesaws and swings can be used and are influenced by weight and speed for riskier levels
– Custom scroll levels are introduced so you can choose when the map begins to scroll, as well as how fast and at what trajectory
– New Dry Bones Shell that can allow for brief invincibility by playing dead, as well as the ability to survive in lava
– New sound effects allow for the ability for more creativity
– New Clear Conditions can make for certain tasks to be completed to complete a level, including mini-games!
– STORY MODE! Plenty of courses created by Nintendo where you need to rebuild Princess Peach's Castle
– Desert, Snow, Forest, and Sky introduced as new level styles, with music old and new composed by Koji Kondo
– A new "Night Mode" makes for levels with altered properties, such as lower gravity, upside down modes, and changes in enemies depending on the level style
– The new Super Mario 3D World style of Mario Maker allows for Warp Blocks, Spike Blocks, Crates and more for more puzzle approaches.
– Koopa Troopa Car (please drive safely)
– Course World returns and levels that are shared and uploaded can also be downloaded for offline play, with included comments to respond to user-created levels
– Network Play: Play with players from around the world taking on levels, racing and competing for quickest level completion
– Multiplayer CO-OP: Everyone must work together to complete a course. When one person wins, they all do!
– Tags on user-created courses allow for filtering of certain levels, like those looking for puzzles, challenges, co-op, auto-run levels, etc.
– Nintendo Switch Online Vouchers can be used to buy two select digital titles for $99.99 and saving $20 in doing so if games are the standard $59.99 MSRP
– Super Mario Maker 2 Invitational happening during E3 2019 on June 8th
AND THAT'S IT!
A big thank you for following the live blog for Super Mario Maker 2! It looks really fantastic and makes what was already a great game even better, allowing for truly endless Mario gameplay. As a lifelong Mario fan, Super Mario Maker was a game I sunk hundreds of hours into, and Super Mario Maker 2 will undoubtedly do the same thing in delivering a really special Mario experience filled with fun and creativity.
Super Mario Maker 2 releases on June 28th
Leave a Reply