Super Mario Maker stage DLC and more now available for Super Smash Bros. Wii U/3DS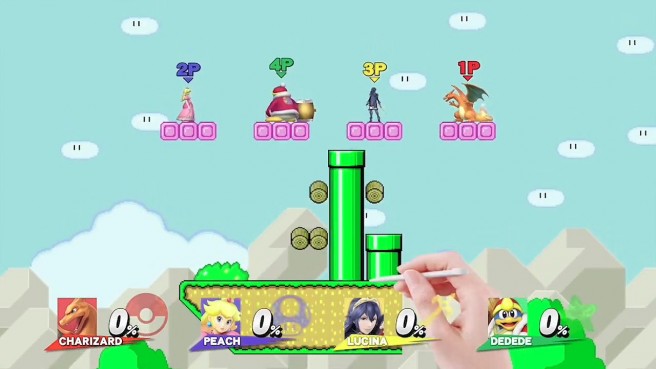 A brand new update is now up for Super Smash Bros. for Wii U/3DS following its maintenance, and with it comes a new batch of DLC.
We've known for a while now that the brand new Super Mario Maker stage would be making its way to Super Smash Bros. as downloadable content, but also included in today's update is a stage making its return from Super Smash Bros. Brawl – the Pirate Ship stage.
Along with the brand new Pirate Ship stage – which is available as DLC exclusively on Wii U – the Duck Hunt stage from the Wii U version of Super Smash Bros. is now making its way over to the 3DS version.
Of course, it wouldn't be a proper update without more Mii Fighter costumes. Included in the brand new update and DLC are seven brand new Mii Fighter costumes, which are:
Business Suit
Fox Set (StarFox) (Gunner)
Captain Falcon's Outfit (Brawler)
Toad (Brawler)
Viridi Set – Kid Icarus (Sword Fighter)
Hunter Set – Monster Hunter (Sword Fighter)
As usual with the Mii Fighter costumes, you can buy them individually or as a bundle for a discounted price.
Here's the breakdown:
Super Mario Maker stage
3DS – $2.49
Wii U – $2.49
3DS/Wii U – $3.49
Pirate Ship stage
Wii U – $1.99
Mii Fighters
3DS – $0.75
Wii U – $0.75
3DS/Wii U – $1.15
Be sure to download the new update if it isn't done automatically when you boot up the game to gain access to all of today's new content.
Leave a Reply