Super Mario Movie final trailer, Level-5's new games, breaking Wii Us, and more | Nintendo Everything Refresh Ep. 047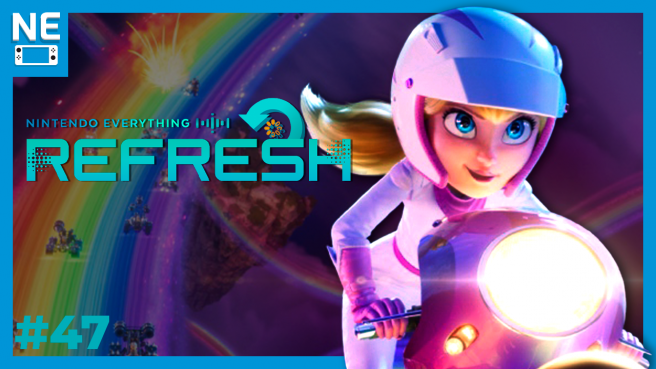 This past week's Nintendo Direct wasn't focused on games, but it did give us a detailed look at the one thing we all wanted to see – Mario's Boots (oh, and a new Super Mario Movie trailer). In this week's episode of Nintendo Everything Refresh, your hosts Nick, Nicolas, Dennis and Luiz will also talk about the most interesting games shown off during various virtual events this week, including Level 5's MASSIVE slate of releases (Professor Layton, Inazuma Eleven, DecaPolice and more!). Stick around for some conversation about Wii U's that are mysteriously breaking, the new RoboCop game, and more!
Our podcast is available on most major streaming platforms, including Spotify, Apple Podcasts, Google Podcasts, Amazon Music and Audible, or you can check out the video version on YouTube. Direct downloads are also available for free through our friends at ListenNotes.
Have ideas or suggestions for the show, or want to submit a fan question or topic for a future episode? Let us know what you think – and thanks for listening!
➡ Inquiries/Fan Mail: [email protected]
Episode Segments:
(00:00) | Intro
(01:51) | The Super Mario Movie Direct
(10:25) | Level-5 Showcase
(25:44) | Robocop: Rogue City
(29:47) | The Lord of the Ring: Gollum
(32:25) | Wii U death
(36:56) | Mario Kart 8 new wave
(46:01) | Wargroove 2
(48:47) | Ghost Trick
(51:34) | Rune Factory 3 Special
(55:08) | Front Mission 2 Remake
(56:47) | The Legend of Nayuta Boundless Trails
(59:11) | Mato Anomalies
(01:01:22) | Session: Skate Sim
(01:03:18) | DC's Justice League Cosmic Chaos
(01:05:48) | The Testament of Sherlock Holmes
(01:11:23) | Refresh Rate & Outro
Hosts:
Nick Serpa: @ndserpa
Dennis Gagliardotto: @LyonHart_
Luiz Estrella: @Luizestrella_
Nicolas Shadday: @Dayshade1999
Leave a Reply