Super Mario Odyssey producer on approach to development, theme song, Pauline, higher age rating, more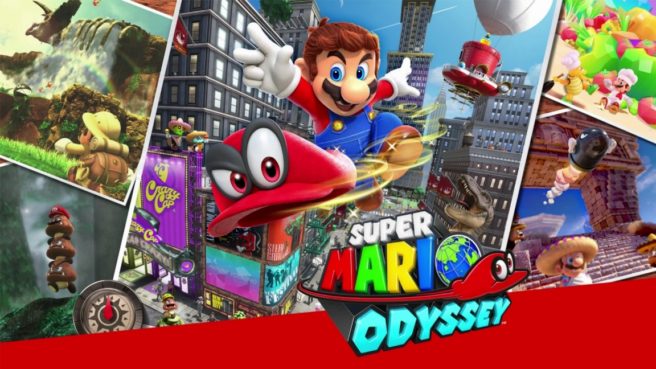 Then the discussion moved to the vocal theme song "Jump Up, Super Star!" The reason why they included this is to add something new that will stick to the minds of people never introduced to Mario before. The song is composed by Naoto Kubo, who previously worked on Super Mario Maker, Captain Toad: Treasure Tracker, and Zelda: Majora's Mask 3D.
The lyrics were originally written in Japanese by Nobuyoshi Suzuki. However, literally translating the lyrics didn't leave much of an impression, so it had to be localized by Nintendo of America staff. For example, they had a long time debating on how to properly put the game term 1UP into the lyrics.
The reason why they put Pauline in New Donk City is because they had a chain of thought like, "In the past we used to have a game taking place in a city, and Mario also appeared in it…" which pointed towards Pauline. At first they wanted to make her the princess of New Donk City, but the world setting of that city doesn't have princesses. That's why she became the mayor instead.
Odyssey has the biggest development staff in terms of pure numbers compared to past 3D Mario games, but it's only slightly bigger than the previous biggest. The age range of the team was also very broad, which is perhaps why they could make the game be memorable for people of all ages.
The next topic was specifically about Cappy. It's a new character born from Mario's trademark hat, so people wouldn't feel anything off with it. In this game it is like the second main character. It's also possible to play in 2-player co-op by sharing Joy-Con, with the other player controlling Cappy. It was made as a living thing so that people will want to control it.
4Gamer noted that making things alive would entice people to control them. Another example in the past was when they had the fairy Navi in Zelda: Ocarina of Time. At first it was only created as a lock-on marker, before it was further developed to what we know now.
When 4Gamer asked which point the players should take most attention of, Koizumi pointed to the capture system. Everybody must've thought it'd be interesting to possess various things, but it was quite difficult to implement. However, by successfully implementing it, it should have been established in a unique way among the game's gimmicks.
Those who were testing the game were also able to make some unexpected uses of the capture system, such as creating shortcuts. Koizumi said that Mario himself has high physical abilities, so it's easier for people to generate new solving methods other than the "correct ones" that had been assumed by game planners. They are rather tolerant in accepting such new methods; this stance has never changed ever since Super Mario 64.
If the dev team found a trick to be interesting, they might actually put it into the game's specifications. For example, in the past there was a case about infinite 1UPs. Although the game design would be frowned upon if 1UPs could be taken easily, they could accept it if players need to work their way to getting infinite 1UPs.
A 3D world with thick density would remind people of Zelda: Breath of the Wild. When asked if the teams between Odyssey and Zelda had mingled or exchanged notes with each other, Koizumi answered not directly; both teams had received the task to find "interesting things that could be done in 3D worlds." While Breath of the Wild was about solving puzzles that are scattered all around the world like points and connecting them with lines, Mario Odyssey is about using Mario's physical abilities to reach the destination point. So although the answer may not be the same, Koizumi thinks they've succeeded in reached the same goal.
Due to the huge scope and abundant features, some people might think that Odyssey would be the last Mario game, but Koizumi laughed at that, saying Mario will still continue to innovate. While protecting the series' staple points, he would also like to take on new challenges.
Koizumi is glad for the reactions from the first reveal such as "I've never played a 3D Mario before, but now I want to play it" or "I don't really understand this, but it looks interesting." He was happy with the latter type of reactions in particular, since that means it left some kind of impression that can't be put into words even by non-fans.
Koizumi also received warm responses from those in America who said New Donk City "looks like New York!" and from fans in Mexico who said, "Thanks for putting our country in the game! Please come to Mexico, you can enjoy Mexican cuisine!" 4Gamer suggested that Nintendo could use that to make further appeal of Switch in certain countries.
Koizumi was reminded of the Switch promotion video where people would play their systems on a plane or a cab, or bring them to a friend's house. So in a sense, the Switch could be described as "a journeying game console". He hopes it'll become a game console that connects people with others. For example, one situation could arise in which someone could be intrigued looking at a Switch gamer playing Mario, and the gamer would share a Joy-Con to that person so they can try it out.
Later on, 4Gamer said that Super Mario Odyssey has higher age ratings compared to past games (CERO B, ESRB E10+, PEGI 7). Koizumi thinks rating boards may have risen the classification because there are tanks in the game that are drawn more realistically. But despite no longer having the "all ages" ratings, Nintendo never has the intention to make a game aimed specifically for children or adults.
When asked about things pertaining to Mario that they cannot or must not change, Koizumi and the team would never change the fact that "Mario is a person related to interesting things." Mario is a game character, so they want to think about features with gameplay at the core. It would be the best for the team if people think "Mario is the one who keeps doing new things all the time." They want Mario to continue doing challenges so that "He would be the first one to do new things." In order to accomplish this goal, Nintendo must continue making him appealing to the entire world, by listening to opinions from all over rather than sticking to just a single place.
Leave a Reply