Super Monkey Ball: Banana Mania reveals Suezo from Monster Rancher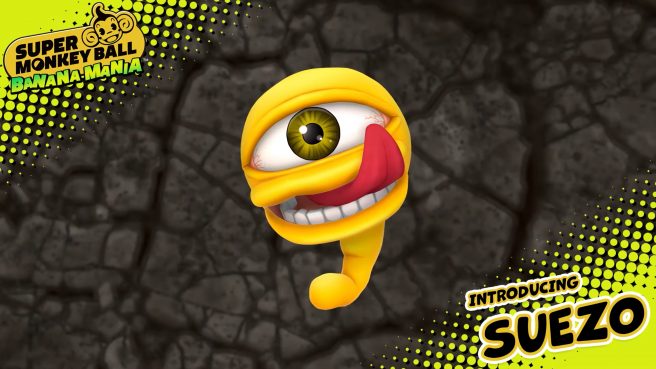 Monster Rancher's Suezo will be playable in Super Monkey Ball: Banana Mania as one of the game's many characters, it's been announced. It will be available as post-launch DLC. Koei Tecmo teamed up with SEGA for the collaboration.
Today's announcement follows the news that Hello Kitty will be joining the game as well.
Thanks to SEGA, we have the following information about the partnership:
The magical worlds of Monster Rancher and Super Monkey Ball collide as Suezo rolls into Super Monkey Ball Banana Mania!

Monster Rancher is a monster training simulation game that was released in 1997 by TECMO, currently KOEI TECMO GAMES. In 2019, Monster Rancher was re-released in Japan for smartphones and Nintendo Switch. Monster Rancher continues to have a large fan following and the series will be celebrating its 25th anniversary this year.

The main feature for the series is the ability to create monsters from CDs, known as "Disc Stones", and this has been brought back through a database of songs the user can utilize. By entering in the artist or CD's name, players can enjoy creating many different monsters.

On December 9th, 2021, a collection including both Monster Rancher and Monster Rancher 2 – Monster Rancher 1 & 2 DX, is set to be released globally.
View a trailer for Suezo in Super Monkey Ball: Banana Mania below.
Suezo will be available as post-launch DLC on October 19. Pricing is set at $4.99.
The official website for Super Monkey Ball: Banana Mania can be found here.
Leave a Reply