Super Smash Bros. Ultimate update out now (version 13.0.0)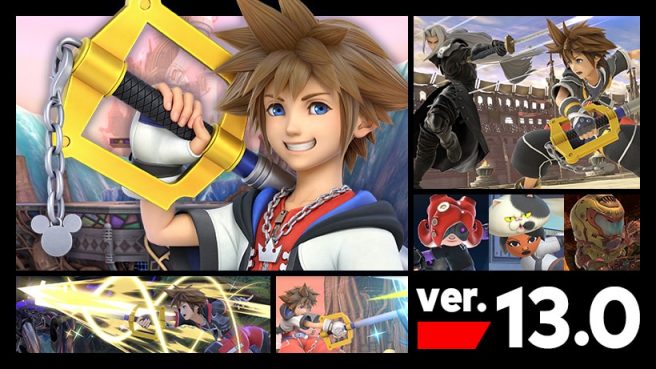 Update: Full patch notes for Super Smash Bros. Ultimate version 13.0.0, including fighter adjustments, can be found here.
---
Original: Version 13.0.0 has arrived in Super Smash Bros. Ultimate as the game's last major update. It is beginning to roll out to all consoles worldwide now.
The new update should eventually be downloaded to your system automatically if you've been playing recently. However, you can grab it right away by going to the Switch home menu, selecting the Smash Bros. Ultimate icon, pressing the "+" button, choosing "Software Update" and finally "Via the Internet".
The primary purpose of today's update is to add Sora as the very last DLC fighter in Super Smash Bros. Ultimate. The character also comes with the Hollow Bastion stage, new music tracks, and spirits to fight. Also remember that new Mii Fighter costumes can be purchased, including Doom Slayer, Octoling, and Judd. It should come with some other elements as well like balance changes.
Today marks the end of DLC support for Super Smash Bros. Ultimate. Previous characters include Joker from Persona 5, Hero from Dragon Quest XI, Banjo & Kazooie from the N64 classic, Terry Bogard from Fatal Fury, and Byleth from Fire Emblem: Three Houses for Fighters Pass Vol. 1. Fighters Pass Vol. 2 was comprised of Min Min from ARMS, Steve & Alex from Minecraft, Sephiroth from Final Fantasy VII, Pyra / Mythra from Xenoblade Chronicles 2, Kazuya from Tekken, and now Sora from Kingdom Hearts.
Patch notes for Super Smash Bros. Ultimate update version 13.0.0 are not yet available. We'll pass them along as soon as Nintendo shares them – which will hopefully be very soon.
As for Sora, we have tons of details about the character and his moves in the game here. You can also access the official website for Super Smash Bros. Ultimate here.
Leave a Reply