Super Smash Bros. Wii U/3DS final presentation live stream and blog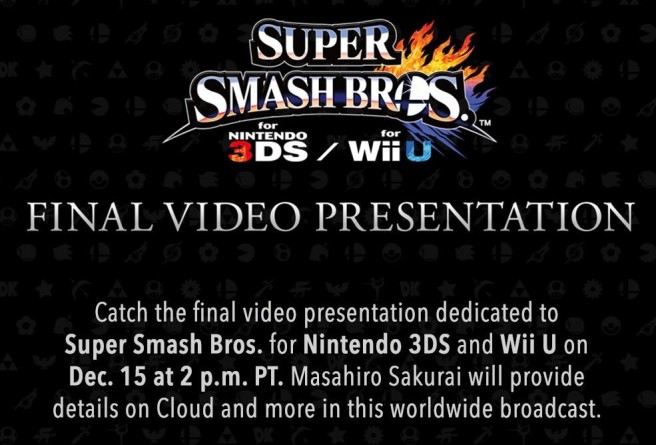 Well, this is it folks! The final Smash Bros. Wii U/3DS presentation is nearly here. In just a few hours, we'll know about what sort of goodies are planned as the game's DLC begins to come to an end.
The stream will begin at the following times below:
– 2 PM PT
– 5 PM ET
– 10 PM in the UK
– 11 PM in Europe
We've posted a live stream for the presentation below. Along with fresh posts on the site for important news, we'll also maintain a live blog. It should be a good time!
GThe Smash Bros. presentation should be about 33 minutes long, according to the Japanese stream.
Live blog
Corrin, Fire Emblem Fates' protagonist revealed. Playable both male and female
Sakurai wanted Corrin in Smash to help players get familiar with the character before Fates comes out in the West
Omega Yato is the final form of Corrin's weapon
Transforms using a technique called Dragon Fang, turning different body parts into tools in battle
Side + B – "Dragon Lunge" is a side lunge that can pin the opponent to the ground and follow up
UP + B – "Dragon Ascent" is a wide attack recovery move with controlable angles
Down + B – "Counter Surge" is a counter move where Corrin counters by transforming into a dragon. Attacks in front and behind
Final Smash is "Torrential Roar" which pulls opponents in and KOs them
More music is coming with Corrin, the main theme of Fates and a remixed version of the same theme
Corrin will be available in February 2016. ($4.99 for single console, $5.99 for both)
Cloud
Will be available "soon" UPDATE: Cloud will be available 'hours after the presentation'
Side Smash is a 3 hit chain attack
All hit sounds are inspired by the original Final Fantasy VII
Cloud has an Advent Children costume
Has access to "Limit Gauge" which fills when he hits or get hits. Similar to Little Mac's KO gauge but is not always visible
Once he has it, certain attacks will be altered
Neutral B "Blade Beam" is a projectile move. Limit Break version leads to a combo
Side + B "Cross Slash" is a combo move, Limit Break version increases power
Up + B "Climhazzard" can be pressed twice to carry the opponent back down, only press button once when recovering
Down + B "Limit Charge" charges Limit Gauge, when charged it becomes "Finishing Touch" which has great knock back but doesn't do damage
Final smash is "Omnislash" which combos oppponents
Midgar
Summon Materia can be collected on the stage, collecting enough will give the players a summon that impact the battlefield
Ifrit, Ramuh, Odin, Leviathan, Behamut ZERO summons all shown
Summons are available in the 3DS version of Midgar
Art for Cloud done by Tetsuya Nomura
Mii Fighters
Chocobo hat for Mii Fighters revealed
Geno Mii Fighter Outfit revealed (from Super Mario RPG)
Final costume pack for Mii fighters are: Geno (Gunner), Bionic Armor (Brawler, Feb 2016), Takamara (Sword Fighter, 2016), Ashley (Sword Fighter Female, 2016), Gil (Sword Fighter, 2016), Tails (Gunner, 2016), Knucles (Brawler, 2016)
On the Smash website, you can get QR codes for Miis that look like the characters the costumes are based on
Bayonetta
Bayonetta revealed as final playable character in Smash
Number 1 requested character on the ballot in Europe, top 5 in US. Number 1 overall worldwide
Her controls will feel familiar to that of the original game
A combo fighter, slow to start but high damage potential
Each special move strikes multiple times
"Bullet Arts" – After an attack, press and hold for continuous gunfire
Gunfire doesn't cause hitstop, enemies can keep attacking
"Wicked Weaves" summons limbs for all her A smash attacks
"Witch Time" is a counter that slows the opponent down and allows you to punish. Doesn't slow down the whole game, just opponent
Slowdown time is affected by overall opponent %
When triggered late, "Bat Within" is activated instead which reduces damage done by opponent
"Bullet Climax" is standard B special, fires her guns. Can press and hold the button to charge up
"Heel Slide" is Side + B when used on the ground, can combo out of it. In the air the move is "AfterBurner Kick" and can be followed up with a second kick
"Witch Twist" is Up + B, can be used twice or hold the button to shoot
"Internal Climax" is final smash, attack opponents to fill up a gauge. When filled, summons a demon which will KO opponents over 100% instantly
Umbra Clock Tower revealed as a playable stage
Flat platform with moving platforms around it
Music and trophies are coming along with the stage
Targeting a February 2016 release for Bayonetta content, alongside Corrin
Amiibo
Ryu, Roy, Famicon R.O.B. coming March 18th
DLC characters revealed today getting amiibo figures (Date TBC)
Leave a Reply