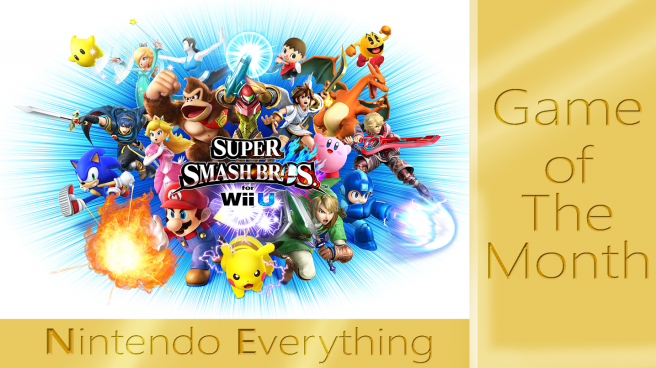 Comment: Game of the month? Austin, are you saying that you're giving Super Smash Bros. for Wii U an award for being the best game that came out in December?
Absolutely not! I'm announcing a new feature for the website that we're calling "Game of the Month", where most staffers on Nintendo Everything creates some piece of content relating to a particular game as a sort of homage to its quirkiness, quality, or cultural significance. The very first game of the month we'll be choosing is Super Smash Bros. for Wii U as a tribute to its release last month, and starting next weekend we'll be bringing you a feature topic on that game every week. Opinion pieces, historical analysis, reviews– everything is fair game during Game of the Month!
Current GOTM Schedule
Dec. 13 – 'Me and My Amiibo' by Kira
Dec. 20 – 'Namco Roulette: An Introduction to Pac & Pals' by the Pat-man
Dec. 27 – 'The Wonder of Smash' by Vincent
Additionally, in the future I'm considering allowing readers to submits ideas for articles about the game of the month that they would write and then have featured on the website. If we decide to do something like that for this month I'll let you all know soon! Get some ideas brewing about Smash for Wii U in the meantime, and look forward to these upcoming feature articles.