A few more details have come in for NES Remix 2. You can find them below.
– Challenge 1: Defeat 10 enemies in 60 seconds
– Play as Invincible Mario
– Challenge 2: kill a moving virus using pills in Dr. Mario
– Fastest method involved sacrificing a pill to trap the troublesome microorganism in a corner
– Challenge 3: run through World 1-6 from Super Mario Bros. 3
– Two additional Mario clones appear at your sides
– Need to ignore the clones and get to the goal
– Games include like Super Mario Bros. 2 & 3, Metroid, Zelda II: The Adventure of Link, Kid Icarus, and Punch Out!!
– No tutorial videos like what was included in the original
– Focuses a few early challenges on teaching you how to play
– Luigi makes a few cameos
– He materializes in the bottom left corner, just like Samus, in an early Metroid challenge
– The direction he walks off in points the way to the first power-up, until a large arrow pointing to the left steals his thunder
Nintendo has gone live with the North American NES Remix 2 website. Access it here. It's very similar to the Japanese page, as it's filled with screenshots, videos, and information.
REDMOND, Wash.–(BUSINESS WIRE)– A new mode inspired by the iconic 1990 Nintendo World Championship event is making its way into the upcoming NES Remix 2 game, launching exclusively in the Nintendo eShop on Wii U on April 25. The original Nintendo World Championship in 1990 challenged players to achieve the highest cumulative score in three specific games using a multiplier-based scoring system. The new Championship Mode in NES Remix 2 follows a similar model, but features an updated slate of three games and a revised scoring multiplier.

Super Mario Bros. remains as one of the three games in Championship Mode, but is now joined by Super Mario Bros. 3 and Dr. Mario. Players will take on a series of three successive score-based challenges in these games to achieve a cumulative total score. Scores can be posted to Miiverse, so players can compete with friends and others who also have the game. The first NES Remix game is required to experience Championship Mode in NES Remix 2.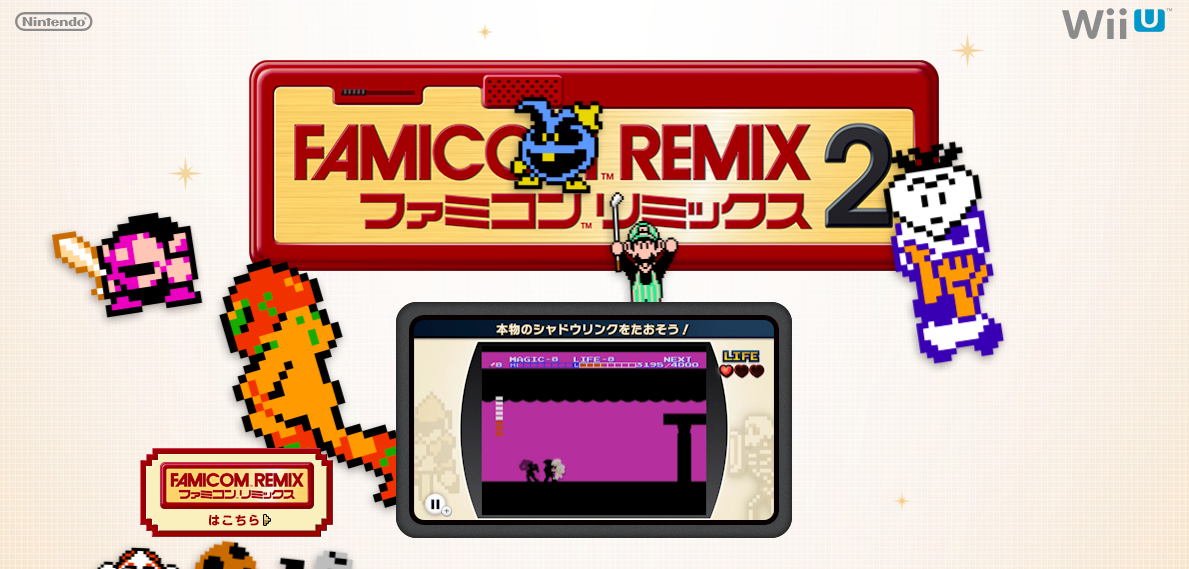 A few more NES Remix 2 details have been pulled from the game's Japanese website. You'll find them rounded up below.
– Over 150 stages
– 100 new stickers based on the later era Famicom and Famicom Disk System titles
– Miiverse integration
– 250MB worth of content
– Features classic titles such as Super Mario Bros. 3, Zelda 2: The Adventure of Link, Kirby's Adventure, Kid Icarus, Punch Out!! and more
– Will be out in Japan as a physical release in the form of Famicom Remix 1 + 2 on April 24 for 2,858 yen
– Digital version will go for 1,429 yen
You can find the Japanese NES Remix 2 page here.