Taiko Drum Master: Dokodon! Mystery Adventure details – Mystery Adventure Mode, music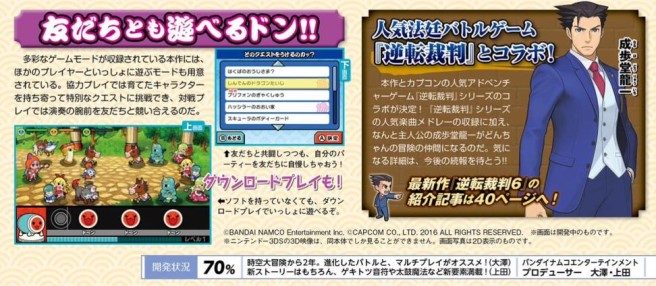 As mentioned a few days ago, this week's issue of Famitsu revealed Taiko Drum Master: Dokodon! Mystery Adventure for 3DS.
One of the big hooks in this release is a RPG-esque mode called "Mystery Adventure Mode." We now have more information about what to expect from this aspect of the game.
The story background/objective is to protect the world's OOPArts. There are two main characters in Mystery Adventure Mode: Tia (the girl) and Popokaka (the monkey). Meanwhile, the antagonists are a mysterious group called Hexagria, who stole a Lion Fang Necklace OOPArt at the beginning of story.
Players can gather and raise party members, with Bandai Namco planning on including over 100 recruitable party characters – including Phoenix Wright. In total, it's possible to have a party of up to eight members. They can be leveled up to raise their attack, and they also have cost which will factor into the party's cost limit.
The party has a 3-3-3 formation of front, middle, and rear. Players can organize them to their liking or have Popokaka automatically determine the lineup.
A new feature in Mystery Adventure Mode is Taiko Magic, which will have various effects. Additionally, when a Clash note appears, players will be instructed to rapidly tap the touchscreen.
Also included is a multiplayer mode. Co-op and versus are both planned, and players can use the party they raised in Mystery Adventure Mode. Download Play will be supported, too.
Finally, here are new tunes included in Taiko Drum Master: Dokodon! Mystery Adventure:
Anime
– Untaka Dance (From the movie Doraemon: New Nobita's Birth of Japan)
– Korokoro Cocotama! (From Kamisama Minarai: Himitsu no Cocotama)
– Umi no Mieru Machi (From Kiki's Delivery Service)
J-POP
– Naimono Nedari Hikarunara Vocaloid Setsuna Trip (Last Note.)
– Happy Synthesizer (Easy Pop)
Variety
– Nameko no Uta Utakata
– Ai no Mahoroba (Touhou Project Arrange by Yuuhei Satellite)
Namco Original
– Sekai wa Itsudemo Mystery
– Hoshikuzu to Linear to Boku
– Diet Fighter
Game Music
– Kirby Medley (From Kirby's Return to Dream Land)
– TraBelna (From Monster Hunter Generations)
– Phoenix Wright: Ace Attorney Trilogy Medley
Classic
– The Busy Danube
Leave a Reply