Update: Ace Attorney collaboration, release date; Taiko Drum Master: Doko Don! Mystery Adventure revealed for 3DS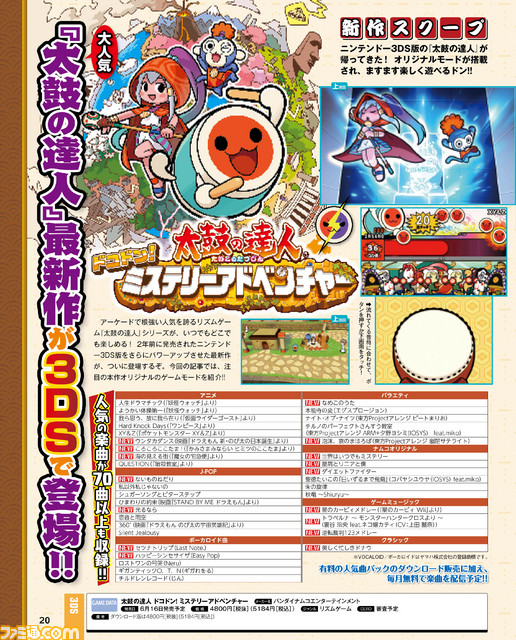 Update: We've now learned some additional info: the game will be released on June 16th in Japan. Also, there will be a collaboration with the Ace Attorney franchise – the game will feature a medley with popular songs from several Ace Attorney games, and Phoenix Wright will be one of Don-chan's partners in the game's RPG-like Mystery Adventure mode.
Other bits:
– 4,800 yen
– "Mystery Adventure Mode" features the series' familiar Don-chan and Kacchan
– Travel around the world exploring mystery spots and participating in musical performance battles to advance
– Can take Phoenix Wright on your adventure in the above-mentioned Mystery Adventure Mode
– 70 percent complete
---
The latest entry of the Taiko Drum Master series, Taiko Drum Master: Doko Don! Mystery Adventure, has been revealed for 3DS via Famitsu. Expect some more details once we get our hands on the full scans of this week's issue of Famitsu tomorrow.
Like with most Taiko Drum Master games, don't expect this to get released in the West. Still, it's nice to see that the series is still going strong in Japan.
Leave a Reply