Takahashi on Xenoblade Chronicles 2: Torna – The Golden Country – new engine for rendering and more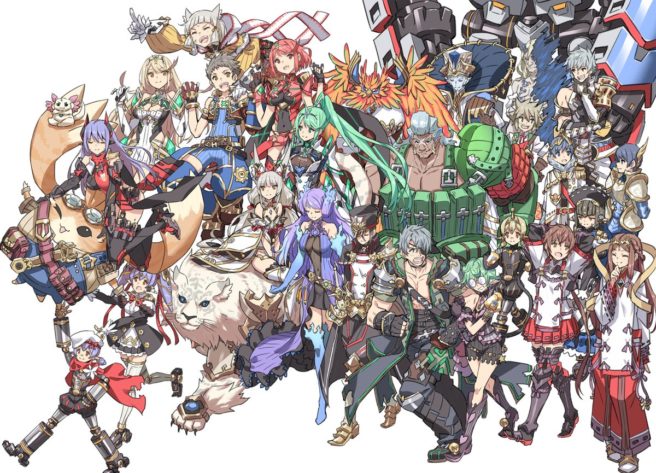 Xenoblade Chronicles 2: Torna – The Golden Country saw its initial debut on Switch yesterday. Expansion Pass owners can access the new content now, while everyone else can begin playing next week.
Over on Nintendo's Japanese website, Monolith Soft's Tetsuya Takahashi shared a lengthy message about Torna – The Golden Country's creation and new features. He reveals that the team created a new engine to render the game, originally intended to squeeze in the expansion between chapters 7 and 8, and more.
We've prepared a full translation of Takahashi's piece. You can read it in full below.
Hello everybody, this is Tetsuya Takahashi from Monolith Soft. After a long wait, Xenoblade Chronicles 2's DLC expansion Torna – The Golden Country launched today. While this expansion is primarily an additional scenario added to the game's main story, it also brings with it a considerable number of revisions and changes.

First, let's talk about some things a bit more technical in nature.

In Torna – The Golden Country, we're using a new engine to render the game. While we're still in the transitional period of refining it for use in future games, the differences are still slightly noticeable. You may find that everything looks prettier and neater than in the main game. The most noticeable difference is in Torna's grass! It doesn't really have anything to do with what makes the game fun, but by all means, please compare it with the grass you can find on Gormott!

Now let's talk about the UI some.

You'll find that tutorial-related elements are a bit easier to get through than in the main game. For instance, while you can swap out the nine characters of your party in battle, in the interest of making getting into battles more convenient, you can now swap out teams in the field with the press of a button! In addition to that, we've also made item-gathering easier by separating them all into categories.

We've also added a "Tips" function, so you can go back and review any tutorial you like later on in the game.

Things have also changed a bit when it comes to battles: this time we decided on using a "Team Battle" mechanic. Teams consist of three members each, and with a total of nine party members, that brings the maximum number of teams to three (in battle, one team can be controlled directly while the other two teams are controlled by AI).

"Vanguard Switch" is a mechanic in which the player can – unlike the main game – switch between the front and back parties, allowing the rear guard to participate directly in battle by supporting the vanguard.

Much like the main game's Break, Topple, Launch, and Smash debuffs, Vanguard Switch comes with its own arts and effects, allowing players to enjoy more strategic battles.

Blade Combos and Chain Attacks have also been revised to a degree so that players can enjoy a different "flavor" of battle from the original game.

Quest acquisition and quest clear conditions have also been simplified and are now a part of the newly-implemented "Community" system.

The Community system is similar to the Affinity Chart of Xenoblade Chronicles and Xenoblade Chronicles X; in the system's menu, you can see the icons of people whom you have encountered and any quests they may have to offer.

Another newly implemented system in Torna: The Golden Country is "Camping."

The Camping system combines and distills the crafting, inns, and character conversations of the original game into one simple, easy-to-use, mechanic. Each character has their own specialty when it comes to crafting and can produce items that can be used both in battle and while exploring. The items each character can make really suit their individual personalities, so I think that players will be able to enjoy seeing the characters get a bit more fleshed out.

Lastly, I'd like to say a thing or two about the expansion's story.

Torna – The Golden Country is a story that focuses on Jin and Lora and takes place 500 years before the events of the main game.

Initially, the events of the expansion were to take place between chapters 7 and 8 of the main game. In order to make the scenario its own independent quest, however, we had to scale things up a bit.

What was Jin thinking at the time? What about Lora? And Mythra?

While we touched on the questions briefly in the main game, this expansion reveals it all!

For this expansion we also had Mr. Yasunori Mitsuda compose a brand-new soundtrack, including 11 arrangements of existing songs. The direction he took was a bit more "jazzy" and "acoustic" sounding – you can really feel the "groove" in the expansion's battle themes, and the ending theme by Jen Bird is a must-listen!

Torna – The Golden Country's atmosphere is a little more grown up-feeling than before, too.

Nine months after the main game's release, it's finally here!

And for those anticipating the physical release, I hope you're looking forward to next week!

Character designer Masatsugu Saito also drew a commemorative illustration to celebrate Torna's release and the completion of the game's expansion pass. All of the characters that Masatsugu-san designed himself appear in the image below (note: attached above)!

As for those who don't appear in the image, you'll have to play the game to see them!

I hope everybody is able to enjoy Torna – The Golden Country!
---
Translation by provided by Nico Thaxton on behalf of Nintendo Everything
If you use any of this translation, please be sure to source Nintendo Everything. Do not copy its full contents.
Leave a Reply