Tales of the World: Reve Unitia revealed for 3DS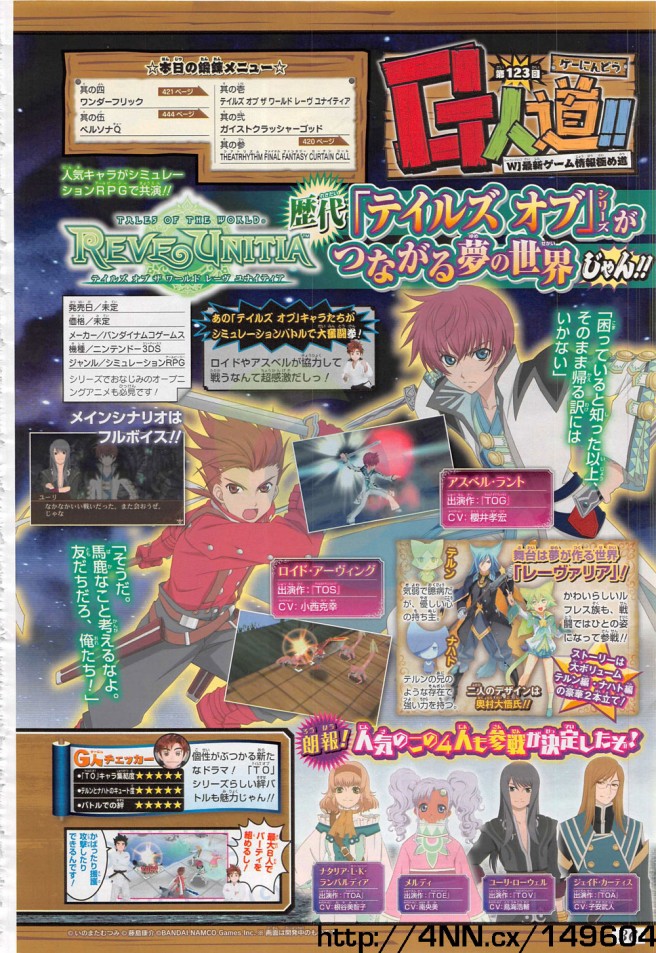 Bandai Namco is finally bringing the Tales series back to 3DS. "Tales of the World: Reve Unitia" is in development for Nintendo's portable, Jump reveals this week.
Tales of the World: Reve Unitia is a simulation role-playing game with strong ties to the smartphone game Tales of the World: Tactics Union. Both titles contain the same world and characters. Reve Unitia will offer "a dream world linking the Tales of franchise together."
Jump confirms that the game is set in Revaria, the world that dreams made. It'll feature four popular characters from past Tales of games as playable characters, complete with full voicing of dialogue: Natalia Luzu Kimlasca-Lanvaldear (Michiko Neya) from Tales of the Abyss, Meredy (Omi Minami) from Tales of Eternia, Yuri Lowell (Kousuke Toriumi) from Tales of Vesperia, and Jade Curtiss (Takehito Koyasu) from Tales of the Abyss.
Daigo Okumura handled designs for two characters: the timid, gentle-hearted Terun and the strong, big-brother-like Nahato. Tales of Graces F's Asbel Lhant (voiced by Takahiro Sakurai) and Tales of Symphonia's Lloyd Irving (Katsuyuki Konishi) will fight alongside each other in the game.
Leave a Reply