Team Ninja on Ninja Gaiden: Master Collection, Zelda: Ocarina of Time inspiration, Ryu in Smash Bros.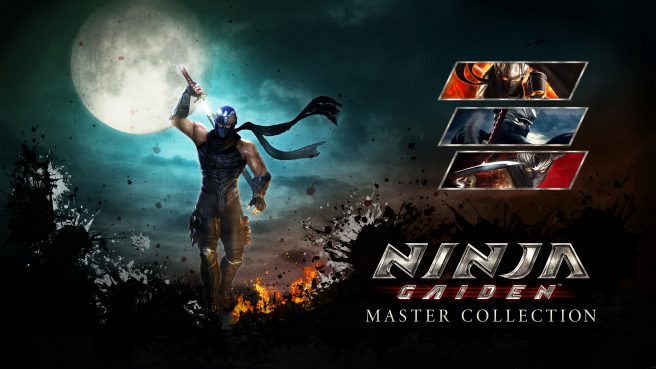 Following its announcement in the February 2021 Nintendo Direct, Ninja Gaiden: Master Collection received new coverage in a recent issue of Famitsu. The Japanese magazine was able to speak with Team Ninja's Fumihiko Yasuda to learn more about the trilogy re-release. There was discussion about the collection itself as well as other topics, including how the first Ninja Gaiden took inspiration from Zelda: Ocarina of Time (not to mention scrapped plans for a fishing system), the possibility of Ryu in Smash Bros., and more.
We've gone ahead and prepared a complete translation of the interview. Continue on below to read it in full.
After Ninja Gaiden 3: Razor's Edge, this is the first Ninja Gaiden title to be released in nine years. How do you feel now that the collection has been announced?

Even though it's a port, I'm ecstatic. We've kept fans waiting a long time and for that, we're truly sorry. We were taken aback by the surprisingly large response to its announcement.

What was the aim in porting the three games?

Ninja Gaiden and Dead or Alive are Team Ninja's flagship series' but haven't released a Ninja Gaiden title on the PS4/Xbox One/Switch generation of consoles. That really weighed on us, and as we wrapped development on Nioh 2, we began work on the collection. For the first time Ninja Gaiden will also appear on PC, so we're hoping more players will give it a shot. In addition, an increasing number of staff who played Ninja Gaiden games on release are now joining Team Ninja as staff. We wanted to give those staff members a chance to experience work on the series as developers.

Speaking as a fan, I really like the Razor's Edge version of Ninja Gaiden 3.

3 was my first title as a director and I have all sorts of feelings about it, but yeah Razor's Edge is something…

The 'Sigma' versions of the first and second games are also being included. What was the reason for that?

The simplest reason is that they're the latest version of both games. You can use characters besides Ryu and there are a lot of additional features too. We're working to include the features from the PlayStation Vita exclusive Sigma Plus version of the game as well.

With that said, there are also some fans who prefer the Ninja Gaiden Black and the original version of 2 though, aren't there?

Right, and I understand that there are pros and cons to the different versions of the game. Ninja Gaiden 2 was the first title that I was a developer on and I've got a deep attachment to it. The main reason we went that route is that the game's data is all over the place and we couldn't salvage it even if we wanted to. While working on Sigma Plus and Sigma Plus 2, we did a much better job preserving the data. Having access to that data made the choice much easier.

So will the additional modes found in Sigma 2 Plus also be available?

They will be. We've also included the Ninja Race, Tag Mission modes and the ability to use all of the special costumes.

Will any rebalancing be done as part of the port?

Ultimately we'll be reusing the assets as is, but we'll be implementing full-HD / 4K (on next gen/PC) and steadying the frame rate. We're not enhancing the visuals in cutscenes but it's a remaster in the sense that it has been optimized for each console. It's also worth noting that the PC version will not support keyboard and mouse.

Will you be doing any game balancing at all?

We'll tidy up bugs, but otherwise no. In Sigma and Sigma 2, players will be able to use the Hero Mode which debuted in Ninja Gaiden 3. Those games are tough by today's standards, so Hero Mode will allow players who want something more manageable to enjoy the games start to finish.

That's a nice touch. Will all the games be as graphic and brutal as they were in Sigma?

We're leaving all the gore as they were in the original, with the exception of the Nintendo Switch exclusive 'Version D' of Ninja Gaiden 3: Razor's Edge [in Japan], which got some adjustments. We thought Switch users probably won't enjoy things that grotesque and toned things down a little. Regardless, there are a variety of ways to enjoy the game.

The severing of bones is particularly gross (laughs). Will the online play from the original make it to the port?

Unfortunately not. I know there are some fans that obsessively played co-op, but between the 3 titles, development schedule and visual improvements we had to juggle, it left us with no other option. Adding co-op play would be the same amount of work as making a new game. Time attack will be making a return, however.

That'll allow for some competition in single player at least. Shaking your controller in games like Sigma allowed the player to do a variety of things like enhance ninpo and shake girl's breasts (laughs).

The gyroscopic sensor was a feature of the PlayStation 3 and won't be included this time around. You'll be able to enhance your ninpo from the outset and as for the breasts, there's [Dead Or Alive] Venus Vacation! (laughs)

Rachel isn't in that game, though! (laughs) Speaking of Rachel, she was always considered weak in titles like Sigma – are there any enhancements that make her easier to use in the collection?

She'll play as she did in Sigma. She's a powerful character and can be quite wieldy to control, but I think that difficulty is part of the charm. Sigma 2's Ayane and Momoji are the same, too.

Do you have any advice for players for first time players of the series?

Firstly, please remember to guard. If you don't, you'll die quick (laughs). The series is renowned for its responsive controls that if you master, offers a great deal of freedom in how you can play. Enjoy learning everything the engine has to offer, bit by bit. All three games also have a wide variety of weapons to choose from, so you can find the weapon that best suits your fighting style. If action games aren't your forte, give Hero Mode a shot.

From your perspective, what kind of games are the titles in the collection?

I've held firm on my thoughts on the first game and from what I hear, it was actually inspired by The Legend of Zelda: Ocarina of Time. You may think I'm lying, but I heard that they were plans for a fishing system at first (laughs). In the end, they doubled down on the action, but some remnants from those early ideas are there, like the exploration elements, puzzle solving and platforming.

I want to see Ryu fish! (laughs)

Maybe someday it will happen (laughs). 2 is a more action-oriented title with the addition of dismemberment and obliteration techniques. 3 had its complications, but with Razor's Edge we reworked it enough to where we achieved a comprehensive and balanced title. All three products have one thing in common: They're tough and the enemies really want to kill you!

It's true that the game is so difficult that it could be called a 'Souls-like' nowadays. [lit: death game]

The sense of triumph after beating something you've constantly struggled against is something that made it to the development of Nioh. When I look at it now, I'm amazed at how fast the game is (laughs), but that's part of the series' charm.

Speaking of Nioh, the Hayabusa and Muramsa clan both make an appearance!

We introduced the ancestors Ren and Jin. When I was planning the Nioh 2, I had already decided on the names of the ancestors. When it came to Senji Tome, all I could think of was Muramasa (laughs). I thought he would always look like that and so, that's what he looks like. He's probably an ancestor.

What are your thoughts looking back on the development of each title?

I was an onlooker during Sigma's development, but I remember the team often worked until midnight! From 2 onwards, I was involved in the development and created the first stage, 'Sky City Tokyo'. We didn't have a good idea of how to make it, and through lots of discussions among staff we figured it out as we went. When I first played it at the time, there were some things I thought should be done better, but I remembered where the enemies appeared from, so I was really impressed by how much thought went into making the game back then. 3 was a major change up to the formula and received a lot of criticism. I think we managed to recover from that with Razor's Edge, but I still regret that we couldn't live up to the expectations of a new game in the series. I'd like to get my revenge with a sequel someday.

With the launch of Master Collection' is there any chance of a sequel?

We'll see how the reaction to the Master Collection is and judge from there. If it's a hit, there's a good chance there will be one. Honestly, we don't even have a plan yet, but often talk about it with the staff. After the development of Ninja Gaiden 3: Razor's Edge, we knew what the series needed, so we have a good idea of what 'Ninja Gaiden' is about. The nature of action games has changed over time, so we need to make sure that the game evolves with the times. Straight action games are also a big hit these days, and the number of people who enjoy those types of games are also increasing, so we'd love to do a 'Ninja Gaiden 4' someday. Ryu Hayabusa is also very important to Team Ninja and I think this game is an opportunity to show the world once again that Ryu Hayabusa is the best ninja in the world.

By the way, there are a lot of fans who want to see Ryu make an appearance in the Smash Bros. series…

We're waiting for the invitation. (laughs)
Ninja Gaiden: Master Collection launches for Switch on June 10.
---
Big thanks to Jarop and centurionnugget for contributing to this post.
Leave a Reply