Tears of the Kingdom's amazing final trailer, Nintendo Live coming U.S., and more | Nintendo Everything Refresh Ep. 051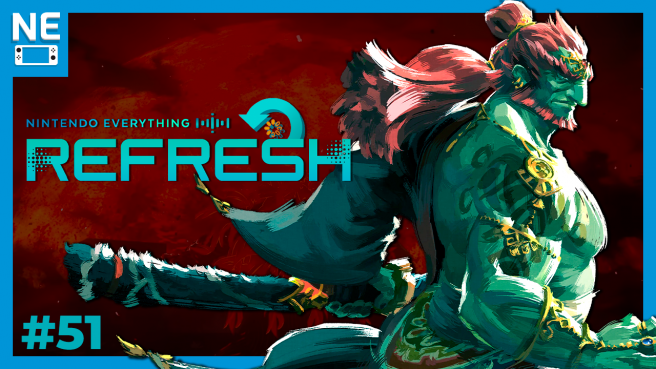 The Legend of Zelda: Tears of the Kingdom is right around the corner, and fans were recently given a lengthy trailer packed with new details to get excited about! In this week's episode of Nintendo Everything Refresh, your hosts Nick, Nicolas and Tom will discuss some of the bigger moments from the trailer and what they could mean for the highly-anticipated game. We'll also discuss Nintendo's return to live events with Nintendo Live 2023, the recently released Mega Man Battle Network Legacy Collection, and much more!
Our podcast is available on most major streaming platforms, including Spotify, Apple Podcasts, Google Podcasts, Amazon Music and Audible, or you can check out the video version on YouTube.
Direct downloads are also available for free through our friends at ListenNotes. Have ideas or suggestions for the show, or want to submit a fan question or topic for a future episode? Let us know what you think – and thanks for listening!
➡ Inquiries/Fan Mail: [email protected]
➡ Visit the site: https://nintendoeverything.com
Episode Segments:
(00:00) | Intro
(05:37) | Headlines (Zelda trailer, Nintendo Live, and more)
(31:05) | Announcements (Trine 5, Killer Frequency, Aliens: Fireteam Elite)
(44:18) | Recent Releases (Mega Man Battle Network Legacy Collection, Wildfrost, Tron Identity)
(01:00:03) | Refresh Rate (Horizon COTM, Pocket Card Jockey)
Hosts:
Nick Serpa: @ndserpa
Nicolas Shadday: @Dayshade1999
Tom Chaplin @Thomchaplin
Dennis Gagliardotto: @LyonHart_
Luiz Estrella: @Luizestrella_
Leave a Reply