The Elder Scrolls: Blades update out now (version 1.12), patch notes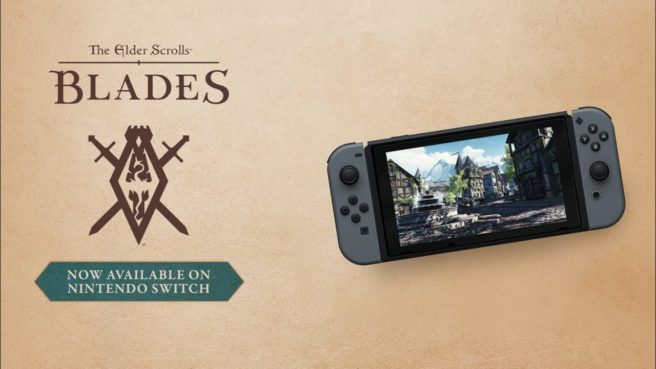 Bethesda continues to support The Elder Scrolls: Blades, and a new update for the game was offered this week. Version 1.12 includes a new quest (with another one coming soon), improvements, and more.
Below are the full patch notes:
NEW EVENT QUESTS!

Celebrate Jester's Day (March 27) with a new quest event featuring the mysterious Trickster!
Avoid the fiery touch of the wrathful undead in the Crypt of Flames event quest, coming soon.

NEW OFFERS IN THE SIGIL STORE!

Wanderer, Treasure, Architect, Blacksmith and Enchanter Pack Bundles – now offered at a wider range of player levels.
Ancient Nordic weapons and the legendary, venomous blade Serpent Strike – coming soon.

IMPROVEMENTS

Clarified the text of the Legendary chests to be clearer about the rewards.
Removed the Fire Breath attack from Withered Ancient Dragons.
Slightly increased the tier 10 versions of the Ravage Stamina and Ravage Magicka secondary enchantments at maximum tier.
Constantia will now remain in town after completing the last Troll Hunt quest.
Added a chest to loot in the Servants of the Blue God event quest.
Reverted the game icon to the original look.

BUG FIXES

Arena: fixed a bug where Magicka and Stamina bars would appear ravaged when attacking an opponent who was low blocking with an enchanted shield
Arena: fixed an exploit where players could use combo swings to bypass cooldowns.
Quest: fixed a bug where the final objective of the Resolution quest could remain uncompleted
Store: fixed a crash that could occur after buying items directly from a pop-up menu.
Switch: fixed a crash that could occur when backing out of character creation
Town: fixed a crash that could occur when talking to Wanum
Fixed various typos and other minor bugs.
The Elder Scrolls: Blades can be downloaded as a free-to-play game on the Switch eShop.
Thanks to Cameron for the tip.
Leave a Reply