The Game Paradise: CruisinMix Special launches on Switch this month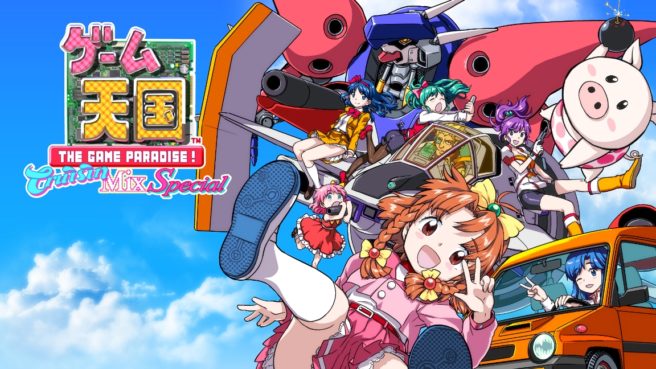 It's been about a year since the shoot 'em up The Game Paradise: CruisinMix Special was announced for Switch. A release date has finally been set, with the eShop listing the title for May 28.
We have the following overview and trailer for The Game Paradise: CruisinMix Special:
Jaleco characters come together once again!The super hyper fast action shooting game, The Game Paradise has now arrived onto the Nintendo Switch. This major hit was originally released in the arcades in 1995. This is a new and upgraded game of the 1997 console version of The Game Paradise. The old school Jaleco characters are voiced by an all-star voice over-cast. The character were designed by the great manga artist Tatsuya Souma.

This is the complete version of the comical shooting game that broke new grounds in the genre. With full voice-overs and four original theme songs, enjoy the parody and multiple gimmicks in this chaotic action-packed shooting game. Casual users can use the auto bomb for easier gameplay. If you want a test your skills, play the time attack mode. See how you do on the online high score leaderboard.

– Playable planes include Clarice from City Connection, Homura Banto from Bases Loaded, and also Tatsujin from the Toaplan shooting series.
– Online rankings now available. Play the arcade version in the "Arcade Mode+."
– Added new arrangement of background music for all playable characters.
– In the sound test mode, you can listen to voice-overs and arrangements of additional characters.
– Additional mode where you can play with never-before-used voice-overs

Cast

Yuki Ito (voiced by Kumiko Nishihara)
Jeynus (voiced by Tomokazu Seki)
Selia (voiced by Mika Kanai)
Z-DYNE Mk-II (voiced by Ryotaro Okiayu)
Pig (voiced by Akio Otsuka)
Momoko (voiced by Hekiru Shiina)
Miki (voiced by Miki Takahashi)
Misato (voiced by Satomi Korogi)
Genius Yamada (voiced by Shigeru Chiba)
Kato (voiced by Masami Suzuki)
Nakamura (voiced by Kumiko Ise)
Clarice (voiced by Sakura Tange)
Homura Banto (voiced by Nobuyuki Hiyama)
Pricing for The Game Paradise: CruisinMix Special is set at $29.99. Pre-orders are currently live on the eShop.
Source: Switch eShop
Leave a Reply