The Legend of Zelda Concert 2018 album: packaging and track list revealed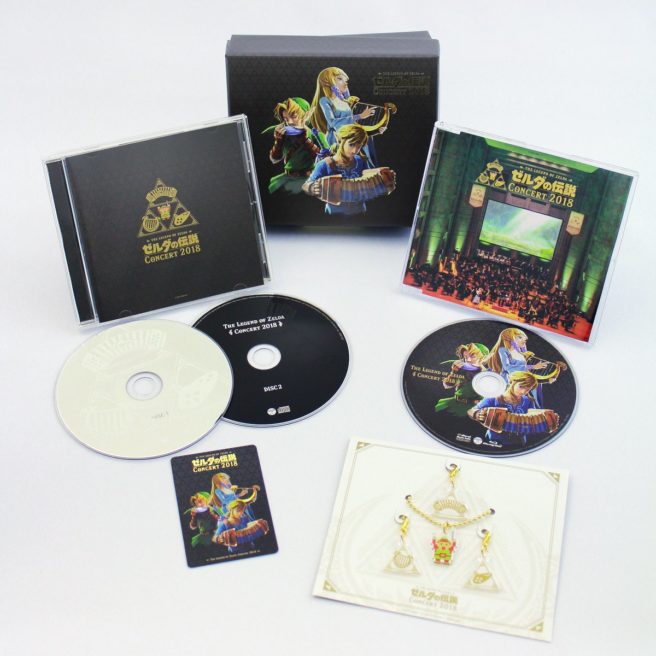 Announced last December, Nintendo will be releasing the The Legend of Zelda Concert 2018 music album on March 6 in Japan. A total of three Zelda orchestral concerts were held in Japan late last year, and this album release will feature recordings from those concerts. Today, Nintendo revealed some new information about the release.
In the image above, you can see the packaging and full contents of the limited edition album release, which contains two audio CDs, a Blu-Ray with a recording of one of the concerts held in Tokyo as well as a video of Zelda in-game footage that was shown on a screen at the concert, four acrylic charms and a metal plate with a Legend of Zelda design. The limited edition costs 5,500 Yen; there's also a regular edition with just the audio CDs for 3,000 Yen.
The full track list for both CDs was also revealed:
Disc 1:
Main Theme – Breath of the Wild
Breath of the Wild Medley – Hyrule
Zelda's Theme
Ocarina Melodies Suite 2018
Boss Battle Medley 2018
A Link Between Worlds & Tri Force Heroes Medley
Breath of the Wild – Champions
Disc 2:
Link's Awakening Medley
Breath of the Wild – Kass Medley
Horse Race
The Legend of Zelda ~Harp Lesson~
Breath of the Wild – Final Battle
The Legend of Zelda Main Theme
Nintendo Switch Presentation 2017 Trailer BGM
The Blu-Ray recording of the concert also has several talk segments interspersed between the songs.
Leave a Reply